Graham Reid | | 3 min read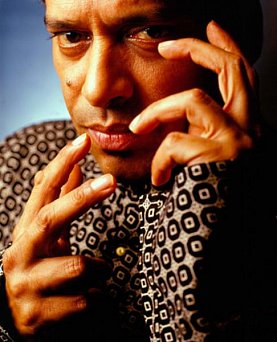 As the century closes it's interesting to look back on how the West has briefly adopted music from other cultures - Indian musics, for example.
Where once these long traditions were confined to ethnomusicology departments of universities, they crept into Western consciousness through jazz musicians such as Jamaica-born British saxophonist Joe Harriott and American saxophonist John Coltrane in the 60s, both of whom had studied the long, flowing, melodic lines and improvisational structures of Indian classical music.
When Beatle George Harrison picked up a sitar for Norwegian Wood in 1965 and the Byrds adopted a Coltrane Indo-influenced melodic line for Eight Miles High the following year, suddenly India was on the hippie trail, raga-rock was the vogue and a Ravi Shankar album was on the turntable.
Sitar master Shankar also popularised the music through collaborations with violinist Yehudi Menuhin and flautist Jean-Pierre Rampal.
In the 70s, jazz artists reclaimed it: world music pioneers Oregon (with Collin Walcott on sitar) and guitarists John McLaughlin and Carlos Santana (by then Mahavishnu John and Devadip Carlos respectively), saxophonist John Handy collaborating with Ali Akbar Khan ...
And then the West moved on for dalliances with Afrobeat, Brazilian music, cajun and zydeco. These days albums of Cuban music are de rigueur round any self-respecting mini-system.
It's called cultural tourism - but acclaimed tabla player Trilok Gurtu (who replaced Walcott in Oregon in 1985 and has worked extensively with jazz guitarists McLaughlin and Pat Metheny) doesn't have too many problems with it.
"We were all tourists then, Oregon were tourists in Indian and ethnic music and didn't know head or tail of that, except Collin. Of course they knew jazz and classical music and made beautiful music for that time. But I wouldn't do it again."
Bombay-born Gurtu, aged 47, a master of the difficult, hand-played tabla drums, can reflect on a lengthy career alongside jazz artists such as Don Cherry, Jan Garbarek, Pat Metheny, McLaughlin and, way back at the dawn of the 80s, German pianist Rainer Bruninghaus, in whose trio he came to New Zealand for a much-acclaimed tour and an exhilarating Maidment Theatre concert in Auckland.
But - with seven solo albums behind him - he's quick to say these days he's his own man and is politely dismissive of some of those Indo-jazz fusion artists he has worked with in the past.
"John McLaughlin is not a tourist - he knew Indian music. But that was all. He didn't know African or Brazilian music. Pat Metheny knows a little bit more but it's a great art form and they just know the big artists like Egberto Gismonti and Villa Lobos. But if you go to Brazil there's an incredible tradition - and that's what I am trying to do.
"I'm tired of having big names who mean less. I'd rather have lesser names who mean a lot."
And he shies away from the description of his own albums, which feature traditional Indian instruments alongside the electric guitars and keyboards, as Indo-jazz fusion.
"I think for me the term jazz is finished. Just because music is improvised doesn't mean it's jazz. I played straight-ahead jazz but never caught onto it like a purist. It's a different sound I'm doing and it has very little to do with jazz.
"Jazz is borrowed from Africa and has its own tradition, but I'm talking about something which has an even older tradition.
"The jazz label didn't bother me in the beginning but Americans think they play the best jazz and the best music comes from their country. So I said, `Okay, I have my own music which I am very good at and you'll have problems playing that.'
"I did it to establish my own sound because you can't be a tourist in those places in America - you'll always be the underdog. They are a superpower and you are supposed to take the peanuts. It's not true," he laughs.
Speaking from Bombay before he returns to his long-time home in Hamburg, Gurtu is good-humoured, up with contemporary music (he is respected by British-Asian hip-hoppers Asian Dub Foundation and is regularly sampled in fashionable London clubs) and impresses as a man of musical integrity.
He bemoans the loss of traditional teaching methods in India (the gurukul master-student relationship), says he likes to be involved with younger musicians to steer them towards music of depth and value, yet isn't such a purist that he can't have Neneh Cherry on his latest album, Kathak.
It wasn't an attempt to sell albums, he says, but who else could sing a song dedicated to her late father Don?
Indian music isn't just for meditation, he says. You can dance to it and "it can be made accessible without compromising.
"When Oregon came along they had a new sound and what I respect is somebody who has their own identity. Not many people do. The music my group makes is very different. You know, there are a lot of people in England who listen to Asian music and one girl said she had stopped going to concerts because she was fed up listening to the same thing all the time, but what I was doing was fresh and something new.
"This was the greatest compliment."