Graham Reid | | <1 min read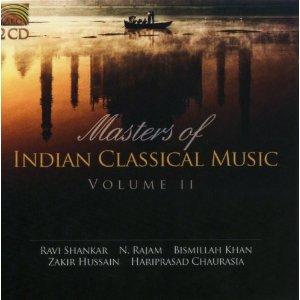 With the recent appearance of Ravi Shankar (with his daughter Anoushka) at the arts festival in Wellington, there may be some interest in an album such as this: a well annotated double disc which includes the greatest names in Indian classical music, among them sitar player Shankar, the master of the shehnai (a brusque oboe-like instrument) Bismillah Khan, tabla genius Zakir Hussain, sarangi (a bowed string instrument) player Ram Narayan and others.
The Shankar piece isn't a deep classical exploration rather a 10 minute folk tune (dhun) but the scene is set by the lovely, 30 minute flute piece by Hariprasad Chaurasia which in typical raga style becomes increasingly more vibrant and complex as it is explored and expanded.
These pieces all come from recordings in the Nineties and with the exception of the Shankar dhun and the violin raga by N Rajam at 20 minutes, all reach to the 30 minute mark.
Music to immerse yourself in, and an ideal sampler of instruments, artists and styles to introduce this mesmerising music to newcomers.