Graham Reid | | 1 min read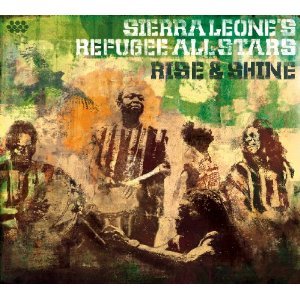 These guys certainly have a great back-story: in six years they went from languishing in a refugee camp, through being the subject of a doco (see clip below) to Oprah. They appeared on the Blood Diamond soundtrack, their self-titled debut album won widespread praise and for this one they went to New Orleans and recorded with producer Steve Berlin (of Los Lobos) as well as some local horn players.
So a good story, and when this album fires on the African songs it is stunning. More of that in a minute -- because what is also here are reggae grooves and on Jah Come Down the lyrics link familiar Jamaican lines ("when you put your hand in a lion's mouth") back to the Africa of the slavery days. That song is more effective than the rather lope-by-numbers Jah Mercy.
But the most thrilling tracks are those where the juju guitars and restless percussion hit both the head and heart simultaneously. It also shifts from traditional music (the medleys Dununya and Bute Vange) to original material from the band, notably by frontman and founder Reuben M. Koromoa. His Tamagbondorsu blends high life and juju with cannoning percussion. Terrific.
At 13 tracks and with maybe one or two too many reggae songs this is maybe a little on the long side, but there is no denying how entrancing this music can be.
And of course there is personal politics -- be a good Christian, respect each other, the satirical Goat Smoke Pipe, be confident and have faith -- throughout, but this never sounds like sermon.
More like a joyous celebration of life -- as you might expect given that back-story.