Graham Reid | | 1 min read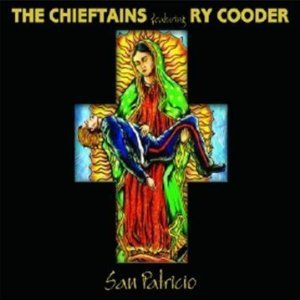 Here's something we don't hear as often as we used to: a concept album with guest stars and telling a historical story – in this case the Irish Catholics migrant soldiers who deserted from the predominantly Protestant US army during the Mexican-American war and sided with the Mexicans.
The San Patricio Battalion actually contained a multi-cultural crew but Paddy Moloney of the Chieftains centres on the Irish experience – which means pipes and fiddles alongside mostly Mexican music, and that makes for an oddly forced concept. The story, such as it is, doesn't appear until halfway through when Ry Cooder delivers the lovely, weary ballad The Sands of Mexico, Liam Neeson narrates March to Battle and Moya Brennan sings the Lullaby for the Dead.
Before and after that it is mostly folkloric Mexican music with guests Lila Downs (the cantina jig La Iguana) and Linda Ronstadt (the melancholy A La Orilla de Un Palmar with Molony on intrusive tin whistle), and songs which exist independent of the narrative.
In many ways this is as much Cooder's project – it is a well-traveled path for him and his acoustic introduction to Cancion Mixteca is lovely. But while you can't deny the joy of songs like El Chivo (Los Cenzontles' party-time with fiddles) and El Relampago, or the aching sound of Carlos Nunez's Galacian bagpipes and Chavela Vargas' tear-filled Luz de Luna, over the long haul this doesn't hang together convincingly as a concept or musical marriage.