Graham Reid | | <1 min read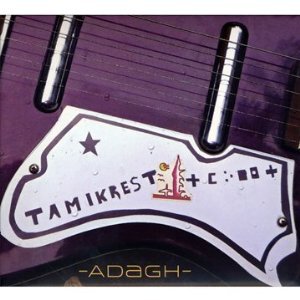 As we know, for every breakthrough band there are a dozen or more who can successfully coattail.
Tamikrest come from the same area -- geographical and musical -- as the great Tinariwan and Etra Finatawa so create a kind of hypnotic desert blues . But where their two predecessors have established a genre and staked out territory within it, the younger Tamikrest expand the parameters by introducing some subtle reggae-like shuffles, backwards guitar and singer Ousmane Ag Mossa has a seductive, almost monotone, delivery. Nothing like Lou Reed, but a bit like Lou Reed if you get my drift.
So here is a band of young upstarts -- with heart-stopping ululations from their I-Twos -- which writes its own edgy material, hooks in a European slide guitarist (on the slippery Toumastin), and take the blues one step closer to rock in serpentine guitar lines and harder beats (Tamiditin).
While you are waiting for the next installment from Etran Finatawa (the spellbinding Tarkat Tajje/Let's Go! due any day) this is the album you need.
Not so much desert blues as desert alt.rock.