Graham Reid | | <1 min read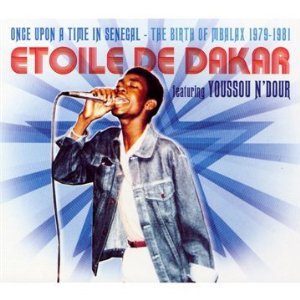 There is not exactly a shortage of collections of African music from the Sixties and Seventies these days: Fela is well covered so are the rumba scene out of Zaire, the Rail Band from Mali, the Syliphone label from Guinea, Tabu Ley Rochereau, Geraldo Pino, Congotronics from Kinshasa, Soweto township jive, high-life . . .
If you can't afford the 10 CD set of Etoile De Dakar (through Sterns), then this double disc collection (with an excellent booklet) picks up the birth of mbalax style in the late Seventies with the band which created a cool and slippery Afro-Cuban sound -- and was the group where Youssou N'Dour came to prominence as a singer and songwriter.
N'Dour's presence however was only one element of this exciting band, and the vocal style of El Hadji Faye (soaring, taut) is equally compelling, as is the squirreling saxophone, angular percussion, chipping guitars . . .
The liner notes pick up the story of Etoile with its changing line-ups and Beatlemania-type success in the period covered, through to the departure of N'Dour in 1981 to form Super Etoile, and some remaining members forming Etoile 2000 with various other players.
Etoile 2000 broke up and El Hadji Fade tried some solo work but ended up in Italy selling sunglasses and watches in Italy, N'Dour went on to an international career.
Fade now has another band playing in the Etoile De Dakar style.
It is quite some story -- and in this period 1979-81 collected here, it came with a great soundtrack.