Graham Reid | | <1 min read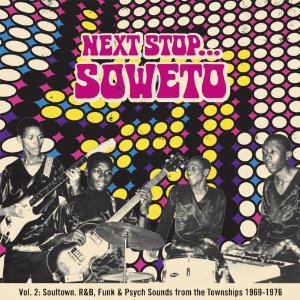 Following on from the recent and pretty cool Next Stop Soweto (volume one, obviously) comes this even better collection, this subtitled "soul, funk and organ grooves from the townships 1969-76".
This is a steamy collection of 22 tracks -- many of them with some real guitar sting as much as funky grooves.
In fact when the Monks kick in with Blockhead (the sample track here) you'd be hard pressed to say where it came from on a blindfold test: Memphis? Chicago? Is it Booker T?
There aren't too many well known names here (always that pleasure of discovery) but perhaps the Mahotella Queens and the Soul Prophets would be vaguely familiar to some.
No matter. This is a stone cold delight of chipping guitars, weaving Hammond and Farfisa organ sounds, funky bass, tight horns and some soulful singing.
You have to wonder though . . . what would Graceland have sounded like if Paul Simon had tuned into this stuff instead of Ladysmith Black Mambazo and others.
White Jewish Afro-funk anyone?