Graham Reid | | <1 min read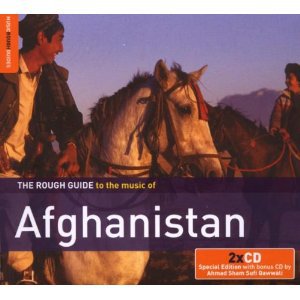 Although it would take an expert in this field to say whether this 15 track collection (with a bonus disc of mesmerising music by Ahmad Sham's qawwali group) is a fair overview, you can't help but get caught up in the swirling pop, evocative instrumentals and often quite thrilling Afghani "rock" on display.
Clearly much of this music isn't Taliban-approved because some of the artists -- notably the country's most famous star Farhad Darya, here with the exciting Salaamalek -- live outside the country.
Here too are the lively Setara Hussainzada who was contestant in the Afghan Star competiton (death threats after her headscarf slipped), a number of fokloric instrumentals on rubab, Sufi music, and the powerful voice of Mahwash whose Gar Konad Saheb-E-Man is a standout.
So from urban "idol" singers to the remote Pamir mountains, from Sufi spiritualism to block-rockin' beats, this is an ear-opening collection.