Graham Reid | | <1 min read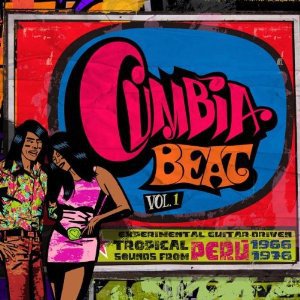 This double-disc -- with fat multilingual booklet and period photos of bands and chintzy album covers -- pulls together 25 intrumental tracks from the Sixties and Seventies by Peruvian guitar pop bands who bring traditional percussion backbeats to their slightlydelic pop and proto-rock.
There is cool guitar jangle and sharp playing (think Telstar with funky congas) and you'll perhaps want to hear more by Los Beta-5, the slinky sound of Los Diablos Rojos and Los Mirlos.
This music emerged in the mid Sixties (the collection covers '66 - '76) with the migration of rural people to Lima, bringing with them traditional rhythms and tuning it in to what was happening in the outside world. So you get Los Ecos covering Lennon-McCartney's I Don't Want to Spoil the Party (Aqui en la Fiesta) and plenty of influence from the Shadows and the Ventures -- less so Santana and Hendrix.
This is tightly constructed music which unrolls itself over various Latin style (mambo, son, merengue etc) and in places doesn't sound too dissimilar to West African juju and palm wine sounds.
Thoroughly enjoyable tremolo guitar-pop.