Graham Reid | | <1 min read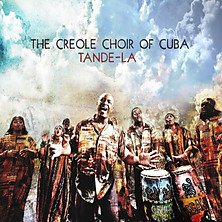 Already tipped to be one of the highlights at next year's New Zealand Womad in Taranaki, this choir of Haitian ancestry certainly sing up a powerful sentiment (see clip).
But this isn't an easy album: Cuban creole (a meltdown of French, various words and phrases from African languages and some other seasoning thrown in) means whatever they are singing isn't going to easily understood.
If at all.
Certainly the voices are powerful, the rhythms interesting and . . .
And you need to see them live.
This requires subtitles.