Graham Reid | | 1 min read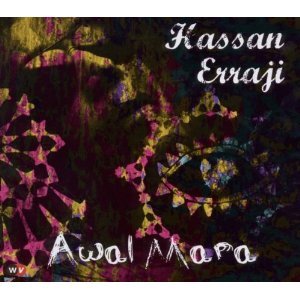 One of the delights of "world music" is that it is a constant journey of discovery and so you have no qualms picking up an album by an unknown name (Hassan Erraji? Never heard of him myself) and taking a chance.
And in this case you stumble on someone you wished you'd discovered many years ago -- especially when you read in the liner notes he is "a man prone to oud-flailing a la Hendrix" and that he discovered the music of the Atlas Mountains as an early age while living near Marrakesh. He has also been blind since childhood.
Now living in Leeds after time in Belgium and what seems like quite some career in Arabic pop (three albums for Riverboat), he had this exciting oud-pop album recorded by Dave Creffield of the Kaiser Chiefs in their studio.
Erraji plays oud, violin, nay (Egyptian flute), keyboards and other things - but it is his keening, strong voice which grabs attention as much as the powerful rhythmic pulse from Ben Stevens on drums and Kenny Higgins on bass. Through overdubs there is a fullness to the sound here in places -- the gripping Haili Ayouma/Oh Dear Where Has My Love Gone? -- which sounds like a small Middle Eastern/North African orchestra.
The instrumental Samitat Ajam evokes those mountain villages -- maybe when the wedding party is winding down -- and Blani Alhawa is kind of exotic Marrakesh funk about a beautiful Arab girl (in translation: "When she comes walking, watch out. A burning sun, hot hot hot")
There is a sensible pop economy at work here too - noting much more than four minutes, most fewer -- and whether it be a yearing ballad or just a dancefloor puller, this is one of those albums you might be glad to have taken a chance on.
Like the sound of this? Then check out this.