Graham Reid | | <1 min read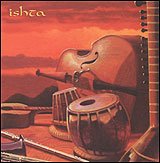 Listening to this multiculti outfit from Auckland qualifies you for frequent flyer points: the line-up has musicians from Dutch, Kiwi, Israeli, Indian and French backgrounds; and the instrumental artillery on display includes sitar, saxophone, didgeridoo, guitar, flute and double bass. All of which could make for an unworkable implosion of world fusion, if it weren't for the keen sensibilities on display.
When the eight-minute second track - Butterfly - takes flight around the midpoint in a maelstrom of flute, sitar and tabla drums (with didgeridoo offering guttural sonic punctuation), it makes for a thrilling and heady brew. The interplay of sax and sitar brings to mind the most gutsy passages on Ali Akbar Khan and John Handy's 1975 album Karuna Supreme.
They are equally impressive in quieter moments (De La Tierra and Drop the Soap which suggest the Indo-jazz group Oregon, Muhashaba featuring the entrancing vocals of Josephine Costain) and the folk-pop of Ramjhula.
Sole disappointments are Sababa, and Sing Your Song which undermines the impression that Ishta otherwise have a sound that is as attractive as it is individual.
Like the idea of this? Then check out these pages.