Graham Reid | | 7 min read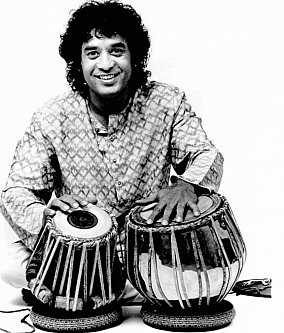 Early morning in Paris and the start of another long day for Zakir Hussain, master of the tabla drums and son of tabla legend Ustad Alla Rakha.
Hussain speaks of the previous day's programme: some showcase performances with guitarist John McLaughlin (with whom he co-founded the seminal Indo-jazz group Shakti in the mid 70s), CD signing sessions (a Best of Shakti has just been released on his Moment! label), a series of interviews, a sound-check, then another performance ...


He reels off his schedule until the end of the year. It takes him to New Zealand and Australia, then concerts in California and Israel, a Malaysian tour with some Japanese drummers, Europe with Latin American perc-ussionist Airto, something in Norway ... His diary is full for the next two years and his time is precious.

It might sound like the rock 'n' roll lifestyle, but Hussain says he's never made any money from recording albums, although playing 150 concerts a year has allowed him to buy a Ford Explorer and, five years ago, his own home in California.

"We play small halls and fill those but that's about it. This music is an intimate form and the interaction with an audience requires a special connection to be established, so it's never going to be huge.

"None of us is ever going to make enough money to buy a ranch and 50 horses."

Now in his early 50s, Hussain can reflect on a life of exceptional musical achievement.

"Thirty-five years on stages -- I'm a battered veteran," he says.



As the son of India's most famous tabla player this century -- his father turned 80 on April 29, still teaches three or four days a week and is in good health despite "50 years of travelling, late nights and greasy food" -- Hussain was born to play.

As a student of his father, growing up between India and southern California, he became an accomplished player early, was touring by age 12, and at 18 took his father's place in Ravi Shankar's prestigious ensemble.
He has taught at universities in the United States and India and played with jazz saxophonists Joe Henderson, Pharaoh Sanders and John Handy (with the latter on an exceptional recording, Karuna Supreme), co-founded the Planet Drum project with Grateful Dead drummer Mickey Hart, done sessions with former Beatle George Harrison and Van Morrison, been the invited soloist with the Hong Kong Symphony ...
He has also written soundtracks (notably the final 12 minutes of Apocalypse Now, the whole "the horror, the horror" sequence) and Bernardo Bertolucci's Little Buddha. The lengthy list of his awards and honours makes for tiring but impressive reading.

"I honestly think I was just in the right place at the right time and was young enough at 18 to appreciate it when, after 12 years of schooling in my own tradition, I became curious about all these other musics. But I did not lose my footing in the tradition.
"That album with John Handy, for example, had just such a relaxed approach and was, in retrospect, an important work, a real trailblazer in that blend of Indian music and jazz."

He tells of playing the music live for the first time in San Francisco: while all the musicians knew how to trade solos, no one had thought about how to end.

"We played and improvised on the same piece for 75 minutes until we all just got too tired."



He considers the acoustic group Shakti the most important milestone of his long career.
"John and I discussed it last night again and we both agreed that had been our best experience. It was something unique and everlasting and can never happen again."
That said, all the original members except violinist L. Shankar ("he's been with Peter Gabriel for two years so he's having a hiatus") will reform for a tour next month on the back of the release of the live album Remember Shakti. Joining the group in Shankar's place will be acclaimed Indian mandolin player Srinivas.

So he's typically busy -- but for anyone who has experienced that feeling of restful exhilaration after a concert of Indian classical music, it is interesting to know how the performer feels. The music is notoriously complex, being a unique blend of constraint and innovation.

"Often I can be very tired when I go on stage and think I won't make it through, but as the concert progresses the energy level comes up and I become quite relaxed. I've never taken vitamins or supplements -- playing is actually some kind of therapy."

Hussain, like many Indian musicians, continues the gurukul system of teaching but he notes that so many gurus are now jet-setting around the world for performances that the system is gradually breaking down.

"But everyone is not going to become a master musician anyway. And a guru never teaches, a student inspires that teaching to come from the guru."

Hussain has been an inspiration, and teacher, to at least two generations of young musicians, but also -- through Shakti, Planet Drum, soundtracks and concerts -- has taken Indian music into the West in the manner of his father and Ravi Shankar. Yet he is typically modest.

"I was very lucky. I came through a period of discovery and recognition, a period of understanding and a building of respect for different cultures. I was simply fortunate enough to be in that period of awakening and am glad to simply play my part."

ZAKIR HUSSAIN AND THE MASTERS OF RHYTHM AND MOVEMENT REVIEWED
Auckland Town Hall, 1999
These are busy times for local inhabitants of the global village: there is Womad this coming weekend, on Sunday there was the annual cultural smorgasbord (literally) at the Auckland International Cultural Festival in Potters Park, and there is the on-going AK05, a highlight of which was this thoroughly entertaining concert hosted by tabla master Hussain.
His broad credentials -- from Indian classical traditions to Indo-jazz fusion with the group Shakti and into rock-crossover with Bill Laswell -- ensured a full house for a concert which drew an immediate standing ovation when it ended with a barrage of percussion from a stellar cast.
From the muscular opening by Manipuri Jagoi Marup -- a trio from eastern India who combined disciplined percussion with extraordinary athleticism -- it was clear this was going to a special event. And that was confirmed when Hussain, violinist Ganesh, percussionist V. Selvaganesh (playing hand drums no larger than dessert bowls out of which he drew an astonishing array of sound) and local tamboura player Alison Booth embarked on a set of magisterial depth and sometimes great humour.
The second raga was a revelation: Ganesh's sinuous violin lines explored the melody at great leisure to find nuances to develop or drop, and then he embarked on a conversation with himself as he echoed his own phrases in other octaves and added subtle microtones. Then the energy levels rose in alternating dialogues with Hussain and Selvaganesh which would have left Paganini perspiring before an incendiary finale which had the audience erupting with approval and astonishment.
It was only one of many highlights in a concert which entertained (drummer Taufiq Qureshi's mouth percussion in a manner hip-hoppers recognise as beat box style) and enlightened (dancer Antonia Minnecola's interpretive pieces from the Mogul period.)
All stops were pulled at the end when Hussain invited on Te Vaka, one of this country's finest musical exports and ambassadors but of whom we see so little here. The contrast between the two musical traditions -- not to mention the joyous eroticism of the women dancers and imposing physical presences of the men in Te Vaka -- would seem like an unlikely marriage. But in the lengthy piece arranged specifically for this event there was a happy duelling of styles, a thrilling vibrancy to the Indo-Polynesian melange, and some crowd-pleasing gymnastics again from Manipuri Jagoi Marup.
Then that spontaneous standing ovation from the beaming crowd.
The concert started a little after 4pm and after a longer-than-expected interval -- the organisers hadn't provided backstage refreshments for the hard-working musicians apparently -- it ended after 7.30pm. A long concert for sure but -- other than those seated above Te Vaka in the balcony and therefore unable to see them -- you'd struggle to find anyone who would complain.
Exceptional.