Graham Reid | | 6 min read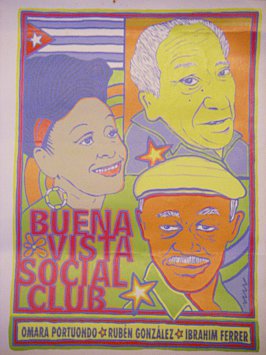 The old man looks desperately frail, shuffling as if each step could be his last. But as he is helped the few metres from the wings of the stage to the piano, each faltering footfall is accompanied by a deafening roar of applause and a standing ovation.
The footstamping and clapping subsides, the band kicks in and Ruben Gonzalez starts to play.
He may be fragile, but at 82 there is a direct communication between the head, heart and nimble hands. He plays a descending then ascending cascade of notes which flows with the fluidity of a waterfall, then hits odd clusters of notes and angular chords, never misjudging the Latin beat being laid down by the band.
It is an inspired, melodic snakes and ladders across the keyboard. When he finishes, the band leader playfully kisses his forehead. The audience erupts in spontaneous applause once more, as it will do repeatedly on this magical night of Cuban music.
The Buena Vista Social Club has come to the Melbourne Concert Hall for two sell-out concerts and the three main attractions -- pianist Gonzalez, 74-year-old singer Ibrahim Ferrer and 71-year-old singer Omara Portuondo -- bring to life the sound of a Cuba many thought had long since disappeared. It comes from the pre-Castro days of dancehalls and romantic nights on the tropical terraces of Havana's grand colonial buildings.
Before a 15-piece band -- which features alto saxophonist Panteleon Sanchez, another supremely talented septuagenarian -- the stars conjure up a place and time none of us experienced but know well in our imaginings.
Ferrer and Portuondo briefly dance together and there is a collective murmur of appreciation, their embrace emblematic of the romantic music.
But most of the two and a half hour show is high energy. Ferrer, an impish, permanently becapped figure, has a snappy dance style full of sudden spider-like movements. Portuondo does high kicks and cajoles the audience to clap along with an energy more befitting someone half -- no, make that a third -- of her age.


Both possess commanding vocal power, the microphone unnecessary when Portuondo belts out ballads or her Latin take on Billie Holiday's Lover Man.
It is an extraordinary night of music.


The Buena Vista Social Club is a phenomenon in a world where singers think they haven't made it if they aren't famous by 23. Yet these elderly musicians are the best known export of a country usually associated with fine cigars, determined boxers and desperate refugees to nearby Florida.
This 18-month world tour -- which has taken them through the United States, Europe, Japan and this past fortnight across Australia but regrettably not to New Zealand -- is the latest phase of a project which began in the mid-90s when American guitarist Ry Cooder went to Havana seeking musicians of the traditional Cuban styles.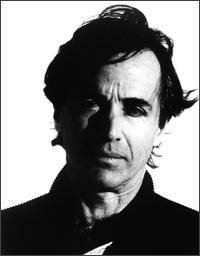 Cooder found numerous performers, including Ferrer, who was born in a dancehall in 1927, was for decades a popular backing singer in many bands but who hadn?t been in a recording studio for years.
Pianist Gonzalez had been well known in Havana but had given up playing because of arthritis. He no longer had a piano at home.
The charismatic Portuondo, who wears her hair in a Marge Simpson tower, was always highly regarded as a solo singer and for her role in many of Cuba's all-woman groups. She toured communist countries regularly in the 70s and 80s and performed in France and Japan before BVSC was launched.
The common myth is that Cooder discovered them languishing and ignored. Not quite true, although Ferrer was apparently shining shoes, but a better story.
The album Cooder made with these musicians -- and the 93-year-old Compay Segundo, and the comparatively young pup, 55-year-old Eliades Ochoa, who now have solo careers outside of BVSC -- arrived with minimal publicity. It was the one that people heard at a friend's house, then bought and played when other friends came round ... then they bought it too.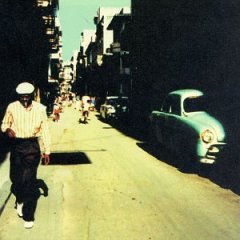 Yet while it achieved its momentum at dinner parties, and BVSC appear to be a middle-class phenomenon, in Melbourne there was a conspicuous number of people under 25, as happy to dance in the aisles as those of their parents' age.
In 1997 the album won a Grammy in the tropical Latin category and has now sold more than 5 million copies worldwide. Not bad for an album sung in Spanish by a bunch of old people.

Sessions in Havana and a subsequent appearance at Carnegie Hall spawned the equally successful documentary of the same name by Wim Wenders (it was an Academy Award nominee) and the main players have released solo albums with others to come.
Nick Gold, for whose small World Circuit label it was recorded, now employs 12 staff in his London office. Before BVSC it was just him and two others.
Engaging though this success story is -- and Wenders' movie lovingly dwells on the elderly protagonists and the timelock that Cuba has become in the four decades since American embargoes -- there is an efficient merchandising team behind BVSC, a model of capitalist enterprise from one of the world's few remaining hard-line communist countries.
In Melbourne, concert programmes ($NZ24), BVSC baseball caps ($30) and various T-shirts were on sale as at any rock concert. Nothing wrong in this -- they were snapped up and the programme with 24 striking black and white photos was an excellent souvenir -- but it denies the notion that this is some quaint and selfless piece of musical archaeology.

The Buena Vista Social Club album/movie/phenomenon also has its critics. Some say Wenders' movie is disingenuous: it suggests Havana to be rundown (Cuban authorities didn't like it) and when the musicians go to New York they are seen to be awed by the skyscrapers. But Havana has new -- and tall -- buildings too.
And BVSC has been caught in old-style Cold War politics.
In Miami, where many extreme rightwing Cuban exiles live, there has been anger that these supporters of the Castro regime should be feted in America. When Segundo appeared at the Miami Midem music festival in August '98 there was a bomb threat.
World Circuit's Gold also says American authorities made things unnecessarily difficult by delaying visas to the BVSC until the last minute. He recently observed that things had become easier but was uncertain what the conservative Bush Government would do. He didn't have to wait long to find out.
There have already been accusations from the new administration that Cooder broke the spirit of the American embargo on contact with Cuba. The issue compounded when outgoing President Bill Clinton authorised another Cooder trip, to record with Ferrer, despite the reluctance of his State Department. Bush hardliners note that Cooder donated $NZ21,700 to Hillary Clinton?s senate campaign, and suggest political favouritism.
Such allegations -- Cooder's lawyer and Mrs Clinton's spokesperson naturally deny assertions of graft -- are common when politics and music intersect. We passed this way with Paul Simon's Graceland.

What is undeniable -- as with Graceland -- is that the music has reached an audience that loves it. Consequently tourism to Cuba has increased which, as Michael Kessler noted in a recent Bulletin, "is probably bad news for the Miami mob, as well as for President George W. Bush and his brother, Florida Governor Jeb Bush. But even they are unlikely to impede [Cuban musician] Juan de Marcos Gonzalez' prophecy: that the music is slowly burning down political barriers."

A week ago in Melbourne politics was the furthest thing from anybody's mind. The only placard-wavers outside the hall held signs which read, "Two tickets required -- please!!"
This article first appeared in the New Zealand Herald in 2001. I took a tour group to Melbourne to see the Buena Vista Social Club -- and a splendid time was had by all.