Graham Reid | | 1 min read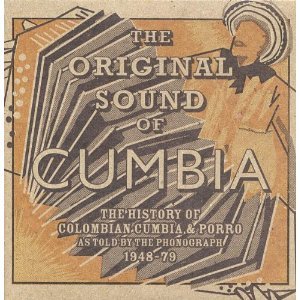 In one of the least inspiring covers in Christendom -- and with the big-breath subtitle "The History of Colombian Cumbia and Porro as told by the Phonograph 1948-79" -- this utterly beguiling and danceable 55-track double disc collection pulls out wonderfully romantic and earthy syncopated rhythms, dipsomanic horn sections behind rather more urgent vocals, and soft-shoe beats which are undeniabely mesmerising, even over the full running time.
From the dramatic drum roll and urgent call of band leader Gaston on La Cumbia esta Llamando (with a weirdly moaning horn) which opens proceedings, through the frantic brass of Santander Flores, the hyperactive accordion and drums of Los Alegres Bucaneros, to the lapel-tugging rhythms of Alberto Pacheco and country'n'western accordion sound of Miguel Duran, this is an astonishingly -- if sometime breathless -- musical travelogue of songs which mostly clock in under three hyperactive minutes.
Compiled by the diligent researcher, multi-instrumentalist and Colombia-based British DJ/producer Will Holland (who moonlights as the mainman behind the Quantic Soul Orchestra), most of these obscure songs from old 78s, 45s and LPs have rarely been heard outside of the homeland.
Fact is though, you won't remember the artists' names (even if you look at them) or the song titles.
But you will be swept away by the sheer energy and obvious enjoyment on offer.
Yep, quite some trip . . . and it goes right back to African village drumming with Celia Estramor y su Grupo de Baile Cantao towards the end.
You have been warned: Too much fun in store for those with a heart (or dull-soul) condition.
Like the idea of this? Then you need this.