Graham Reid | | <1 min read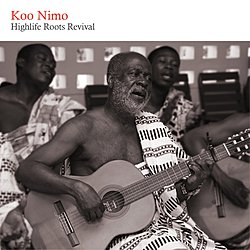 An educated man who studied science in London in the Sixties and spent two years as a professor of ethnomusicology in Seattle in the late Nineties, 78-year old Koo Nimo from Ghana also immersed himself in the Western classical tradition and is a fan of Thelonious Monk's complex jazz compositions and flamenco, the latter two evident in his deft guitar work.
He is however part of the continuum from the palm wine days of the Forties and Fifties and these narrative songs have an engrossing quality -- although most listeners will not being able to understand a word of his Twi language, of course. (Like, you did with Buena Vista?)
Recorded in the yard of this septuagenerian's home in Ghana (hence the occasional background noise of animals and kids), these emotionally direct songs – where his voice and guitar remain central despite percussion and vocal assistance – may speak across the generations for their elemental nature, but Nimo is no untutored talent.
Despite first impressions of simplicity, there is a sophistication to the rhythms, interweave of acoustic guitar, Nimo's conversational singing style, the tick-tock percussion and the background vocals.

Rootsy, but also a genuine tapestry of sound which is easy and affecting – and further evidence that age shall not weary some.
Like the sound of this? Then check out this.