Graham Reid | | <1 min read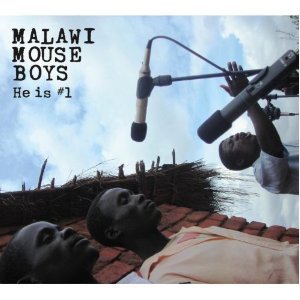 Their name alone sends you to You Tube to find out more about the Malawi Mouse Boys . . . and indeed that is exactly what they are.
They sell mice kebabs on the roadside as a kind of snack-to-go for passing cars and trucks in some remote and dusty part of Malawi.
But then you see them walk behind a house into the garden, pick up the most battered of instruments imaginable and sing.
And how they sing!
With broken guitars and rudimentary percussion held together by tape and wire, they sing up a joyous gospel sound which at times (Ndaimirila) almost connects to the South Pacific through its loose-limbed and swaying hips rhythms, elemental drumming and close harmony vocals.
Elsewhere (as on the affecting Jesu) there is a simple and direct testament to their faith (hence the album title) which is gentle and moving. Their are hints of American gospel from many decades ago in Rejoice in the Lord, but when they hit offbeats (Ndathamanga-Thamanga with is single string guitar solo, the chant-sing of Mtsilikali) this could be reggae from a rural roadside in Jamaica.
Recorded in situ by Ian (Tinariwen) Brennan, the Malawi Mouse Boys will never be able to make another album as authentic as this . . . and their collective voice is a sheer delight.
Like the sound of this? Then check out this.