Graham Reid | | <1 min read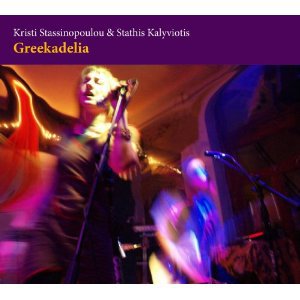 Adding the suffix -adelic to a style (folkadelic) or album title as in this case, isn't always quite as helpful or true as it seems.
This well-established traditional-into-today duo – who employ loops and electronica alongside harmonium and lauto (lute) – don't live up to the tripped-out suggestion of this album title, however this (like a previous outing) has topped world music charts recently and it's easy to hear why.
Beguiling melodies with drone-like undercurrents, suggestions of North African and Middle Eastern melodic lines as much a Greek, and – doing for contemporary Greek music what British musicians like Steeleye Span and Fairport Convention did for Celtic music many decades ago – pulling traditional songs into the modern world for an audience which might want more than hand-holding around the campfire or feeling prematurely antiquated for liking the old stuff.
So here are trip-notic traditional songs (that harmonium a key element) which seduce while subverting expectation, and offer a reason to be interested in Greece other than whether you'll be safe there on the cheapest holiday destination in Europe.
Less psychedelic than trad-adelic.
But a fine result nonetheless.