Graham Reid | | <1 min read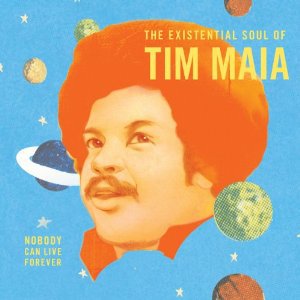 Although obviously a hard guy to live with, Tim Maia – who died in '98 aged 55 – was a larger than life character in Brazilian music.
He was a man of excesses and some of his song titles hint at his philosophy (Let's Have a Ball Tonight, I Don't Care, You Don't Know What I Know).
There was a musical about his life and he certainly had stories to tell.
At 17 he illegally emigrated to New York; was deported four years later (caught smoking marijuana in a stolen car); brought American soul, funk and black politics back home with him; was married five times; handed out LSD to his record company people; started the first indie record label in Brazil; believed we had been exiled on Earth and would be rescued by flying saucers from our home planet . . .
Sort of like Curtis Mayfield crossed with a decadent Scientologist who had been fed Santana's cloud-piercing guitar.
This excellent – if slightly period-locked in the Seventies – collection was a decade in the collating but for its sultry low funk (O Caminho Do Bem), broody soulful blues (Ela Partiu), snappy psychedelics (Quer Quiera, Quer Nao Quiera) and Sly Stone-like political rock (Brother Father Mother Sister) it was worth the effort.
Tim Maia was a rare one and although he said nobody can live forever he also seemed to believe his music might just.
Terrific, if gettin' back to the Seventies appeals.