Graham Reid | | <1 min read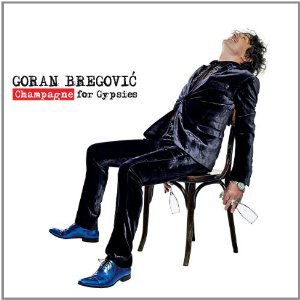 If everything on this album were as flat-tack as the boisterous opener with guests the Gypsy Kings, then you'd be breathless well before the midpoint. And, just a guess here, when Bregovic and His Wedding and Funeral Orchestra play at the Taranaki Womad later this month there will be that kind of furious energy on display.
The well-known Bella Ciao here -- which will doubtless be in their live set -- will have you shedding pounds.
Fortunately this 12 song album includes interesting guests (among them Selina O'Leary from Ireland, Eugene Hutz of Gogol Bordello and Stephen Eicher from Switzeralnd) and also changes the pace into the off-kilter funky (Be That Man with Hutz, the Germanic oom-pah Ciribirella Ciribirella with Huntz).
But there's still a fair bit of the fast footstomp and heel-clacking stuff.
This is certainly serious fun (Unca Boogie Woogie is like a mad Spike Jones cartoon orchestra) and a good introduction to the vigorous (and sometimes soulful) style of Bregovic and his eight-piece band. And to their celebration of gypsy culture.
But at a purely practical level I doubt I would play it often, if ever again.
Womad Taranaki, New Zealand: March 15 -17 2013. For more on Womad 2013 artists at Elsewhere see here.
The Womad website for ticketing and information is here.