Graham Reid | | <1 min read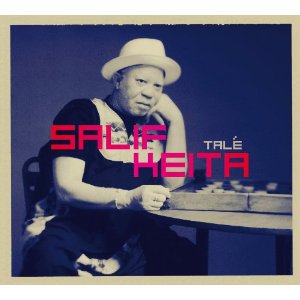 The great Salif Keita has explored just about every kind of musical association but this one seems an interesting, if not always succesful, swerve. Producer Philippe Cohen Solal of Gotan Project has matched him with Roots Manuva, Bobby McFerrin and Esperanza Spalding for an album which is a high-tech production (with strings in a couple of places) aimed at dancefloors.
Now, Elsewhere has always said "world music" artists are perfectly entitled to move in any direction they like and too many listeners want them to remain "authentic". BUt here you do have to wonder sometimes just where the great voice of Keita has gone as he plays second fiddle to Roots Manuva and the groove being established and embellished.
Sometimes Keita seems like a guest on his album.
But there are also some clever crackers here like Samfi which samples from the B52's Planet Claire to fine effect (the tension positively crackles with electricity), Simby with McFerrin's vocalese is weirdly hypnotic (despite Keita again in subsidiary role) and Yalla bubbles with energy (and cries out for remixes).
Live at Womad, Keita and his superb band went off, but this album is a very uneven account. Not without interest . . . although sometimes you are listening to elements other than that great voice (as you were at Womad, come to think of it).
For more on Womad 2013 artists at Elsewhere see here.