Graham Reid | | 5 min read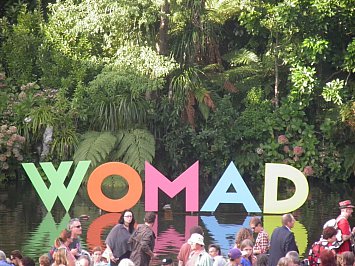 Although no one doubted the need for rain . . . but on the final day of Womad?
And just two days after a drought has been declared?
This rare occurrence – only the second in the festival's local history – hardly dampened Womad spirits although there was a small attrition of audience numbers.
Few festivals – of whatever musical persuasion – could claim an opening act as powerful as the Malian guitarist Vieux Farka Toure who peeled off mesmerising sheets of sound where fluid melodies exploded like hot mercury.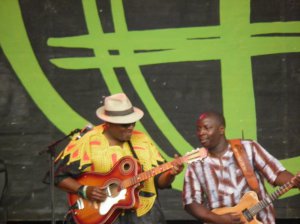 Sounding more urgent and bluesy than his albums (an impression confirmed on Saturday when he was joined by surprise guest Taj Mahal), Toure – with a bassist and drummer – redefined the power trio and at times references to Jimi Hendrix (albeit from West Africa) weren't amiss.
The Alaev Family – three generations of Jewish Tajikistan musicians now living in Israel – brought thumping cross-rhythm percussion, powerful voices, searing violin, sinuous clarinet and dramatic accordion to their traditional-goes-trance/dance music. If their patriarch Allo Alaev took second place behind the physical energy of the younger members that hardly mattered, although his once powerful voice seemed a shadow of its former self. They delivered one of the most exhausting and exuberant wedding songs imaginable.
Anyone looking for snapshot of Womad's diversity needed only to walk between two quite distinctive bands, each of which pulled huge crowds. On one stage Scotland's Lau played a refined, often thoughtfully melancholy set of well-constructed folk – better when the vocals came into play – which wouldn't have sounded out of place in a village pub in the highlands where men smoked pipes and nursed pints round the fire.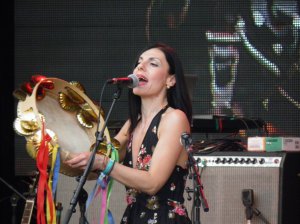 At the same time Nidi d'Arac from southern Italy were firing off post-punk, effects-heavy folked-up rock to an audience on its feet and dancing like they were in a nightclub. And at the end they brought on a dancer/singer guest(right), the astonishingly powerful Anna Cinzia Villani who sang just two songs with them (more please).
These two acts, as did others, offered variants on "folk".
Or for another parallel contrast, the Savoy Family's unadorned, authentic cajun music from Louisiana was rugged but right (as they say) and had people dancing, while elsewhere the Melbourne Ska Orchestra brought a huge band of dapper players to punch out "wo-yo-yo-yo", the ska-ed up theme from Get Smart and other kicking beats.
Not everything was as successful.
Trumpeter Hugh Masekela's sole set failed to ignite as he digressed into a well-intentioned sermon about the environment and oppression, then again a shaggy dog story (him using the stage as a pulpit was generally well received by the large crowd however), tickled away at tunes and was weak vocally.
His version of Fela Kuti's Lady proved that rarity, a Fela song which didn't get people up dancing. It was left to his superb band to salvage things, but those who had followed Masekela's rather indifferent career were hardly surprised by him positing himself as the SA patriarch rather than as a performer. Equally excellent was the band of Salif Keita who had the massive crowd dancing to his high-energy, hi-tech Afro sound.
Nidi d'Arac took longer to fire at their second appearance on the big stage in the afternoon, and under constant drizzle the Afrobeat-inspired Antibalas from New York offered too much of a slow simmer when the crowd needed a rolling boil. However by the end of their sets both had redeemed themselves.
On Saturday night Goran Bregovic and His Weddings and Funerals Orchestra presented an excellent set but one which misjudged the audience wanting to party to some serious gypsy dance. His tuxedo-clad male choir, slow and cinematic pieces, and the stately mood was more akin to a recital than a concert until the closing overs – after a truly awful and uncommitted version of Lee Dorsey's Ya-Ya – when they finally took flight. Terrific, but too late and wrong place/wrong time for many punters.
The crowds for Scotland's Lau and Abigail Washburn proved how durable and popular folk music is in such a setting, regardless of whether it comes from Scotland or America (and in the case of Washburn also China). You do wonder however how many of those applauding it would have gone to see these acts if they's appeared in a local hall.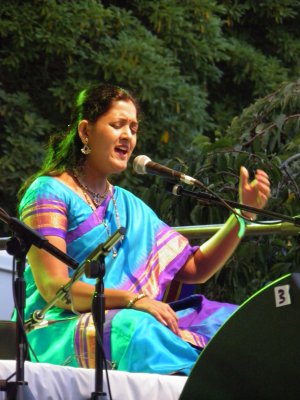 Womads offer the one-stop shop for such music, a kind of drop-in centre for lapsed folk fans. And also the oddities like the Correspondents who – on paper and on stage – seemed an unlikely group in this company. The UK duo offered up dancefloor, Eighties-referenced hip-hop-influenced rock which went over well in the evening.
Then there was the ethereal sound of India's Manjiri Kelkar (right) who was especially impressive when she moved into lively folk songs.
And it is one of those foul ironies that some of the finest music came from musicians from Mali, a country where Islamic extremists are attempting to impose sharia law and are banning the playing of music, smashing instruments and harassing musicians.
Excellent on the day were Washburn and Kai Welch with their modern take on old-time Americana (and Chinese folk), Bassekou Kouyate from Mali who turned a workshop into an intimate concert, Fly My Pretties' crowd-pleasing Kiwi guest-list (Ria Hall, LA Mitchell etc al), the brilliant viola player Jordi Savall from Spain, David Kilgour with Billy TK and Sam Hunt, and the Soweto Gospel Choir who struggled on Saturday in the big arena but brought home the spirit on Sunday under grey skies.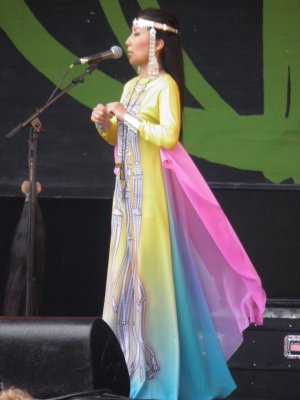 That lake between performers and audience can seem like a very wide chasm in daylight hours and even the best efforts of lively bands frequently failed to bridge it.
Over the weekend what impressed most were the extraordinary voices of women performers: the assured melodic and tough sound of Amparo Sanchez from Spain (whose smaller set on the Chimney Stage was more powerful for its intimacy than when she rocked out on a larger arena; Kelar; the Sami singer Mari Boine blending electronica rock with traditional styles; Creole singer Grace Barbe with the slippery rhythms of the Seychelles and Afro juju; Villani with Nici d'Arac . . .
But the most breathtaking were Ayarkhaan from Siberia (right) who bridged evocative soundscapes, throat singing and what sounded like industrial strength electronica. These three women – their multicoloured diaphanous attire blowing in the breeze were the highpoint in a weekend of sunshine, dancing, workshops, a great atmosphere and, yes, rain.
But frankly the rain wasn't that bad. What Kris Drever in Lau from the Shetlands might have called a wee mist.
And Mari Boine from Norway in conversation with Nick Bollinger said she'd rung home and it was minus 30.
That kinda put things in perspective.
For more on the artists who appeared (interviews, CD reviews and overviews) at the Taranaki Womad see here.