Graham Reid | | <1 min read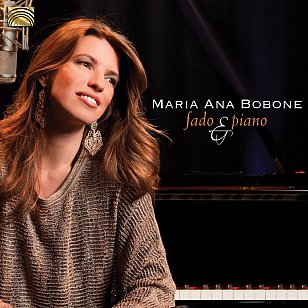 Quite why this fado singer and pianist would break the elegant and stately mood of her otherwise acoustic album with a live electronica piece which seems to channel the spirit of Clannad/Enya is beyond comprehension.
Just to prove she could do it? To show she is also "contemporary"?
The track -- the traditional Senhora do Almorto -- is a rude intrusion on an otherwise fascinating collection.
For those more familiar with traditional Portuguese fado sung in late night bars and accompanied by the distinctive acoustic guitar, this rather more stately interpretation might seem to come from the front parlor and be for more elegant settings.
Which is the intention, because a century ago fado was accompanied by piano in aristocrat's homes, so Bobone – who both plays and sings – is opening up new possibilities for a modern audience while keeping faithful to something of this romantic and often heartbreaking music's history.
And by pulling piano into the foreground (although some pieces do include guitar and/or bass) Bobone offers a very different experience.
That said, some of the music's earthiness is sacrificed for poise and gentility (although Fado Xuxu sounds straight from the music hall). It is more reflective pieces (Fria Claridade) which are affecting.
So a slightly challenging mixed bag which includes Love Ballad and Twilight sung in English.
So, chamber-fado? A new-old genre.