Graham Reid | | <1 min read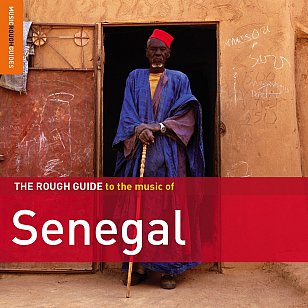 When the Rough Guide series started there were some rather uneven, not so say dodgy, collections released but -- perhaps as the series gained traction and licensing became easier and more attractive to labels given RG's reach -- the quality has improved considerably.
The series is considerably more consistent that the Putamayo version which too frequenrtly errs to the lightweight (and the inane, if we consider their series for children, presumably aimed at white liberals who want the one-stop shop on kids albums which don't feature Bieberists).
So this 13 song colection picks out important names (Cheikh Lo, Orchestra Baobab, Mansour Seck, Nuru Kane, Baaba Maal, Thione Seck featured with the Africando All Stars, Mansour Seck again with Ousmane Hamady Diop, and Ismael Lo) who may be familiar to Elsewhere readers and Womad audiences.
There's no chronology and Berlin-based Sister Fa's hip-hop influenced Amy Jonta comes after Mansour Seck's more traditional Ndiatigue, but that at least serves the agenda that this is not a musical culture preserved in aspic for anthropologists.
As with all recent Rough Guide releases this interesting collection comes with a bonus disc, this time by Daby Balde whose amplified acoustic guitar songs are embellished by kora, widdly fiddle, accordion and percussion. He's got one of those engagingly deep-then-high voices so familiar from the region and his songs have a yearning or urgency about them.
This is a bonus disc which is a genuine bonus.
For other artists from Senegal, including many of those mentioned above, start your search here.