Graham Reid | | <1 min read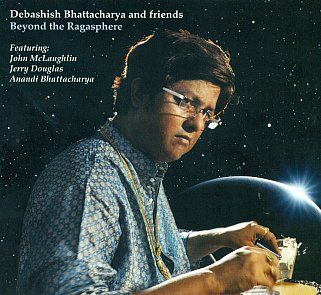 The great Indian slide guitarist Debashish Bhattacharya has appeared at Elsewhere before because he not only makes hypnotic music, but that he also connects with an interesting tradition which goes back many deacdes . . . and to Hawaii.
Here -- in a disheartingly dull cover which gives no hint of its exotic contents -- he invites in some of his many international friends and fellow travellers in the musical region between East and West, people like guitarist John McLaughlin, flamenco player Adam del Monte, American jazz-funk drummer Jeff Stipe and bluegrass dobro master Jerry Douglas.
So the result is music which pays scant regard to genre and cultural divides but can be of pulse-racing intensity (Kirwani One, 5+8, Five), suggestive of the spiritual (Reflections Remain features his teenage daughter Anandi whose vocal contributions are a high point throughout) or enticingly multi-culti (Indospaniola with del Monte).
And surprisingly given the musical and emotional connections made, these guests sent their parts to Bhattacharya in Kolkata via the internet.
JD2 Pillusion is slippery Indo-jazz fusion and the closer Ode to Love is a beautiful Hawaii-cum-Calcutta meditation which, of course – because Bhattacharya plays slide – works brilliantly.
The track to start with however is the conceptual A Mystical Morning with McLaughlin which opens with ambient street sounds and gentle ripples of water before the pair and tease out an increasingly complex dialogue where Bhattacharya jangles and McLaughlin delivers fluid lines in contrast.
Two musical voices, one vision.