Graham Reid | | <1 min read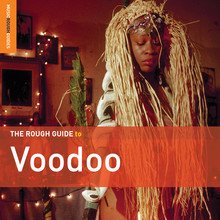 No one would deny Dr John being on this voodoo collection (more correctly "vodou" in Haiti, the country it is most associated with), but the Night Tripper is here with his sophisticated salute to the famous Nawlins voodoo priestess Marie Laveau rather than one of his more elementally voodoo Gris-Gris songs . . . and that seems the least of the problems with this collection.
The diaspora of voodoo runs from present-day Benin through the Caribbean and to New Orleans – with the attendant tourist trinkets today – and then into Hollywood to be transformed into spooky movies.
But this 12 song selection not only doesn't contain any field recordings but rather favors cleaned-up stuff in contemporary recording studios. So from the Creole Choir of Cuba on the close harmony Guide Nibo this is a buffed-up exploration through Trinidad's Lord Nelson (a remix of his famous drum-driven Shango), the classy horns of the Gangbe Brass Band from Benin, the Brazilian shuffles of guitarist Baden Powell and Vinicius de Moreas . . .
Yes, there is slightly disturbing and hypnotic percussion behind some songs (notably the persuasive Cantos Iyesa by the late Lazaro Ros from Cuba) and Toto Bissanthe's lament for Haitian children murdered during the Jean-Claude Duvalier (Baby Doc) regime is genuinely heartbreaking.
But this is a very rough guide – it comes with an excellent bonus disc of songs by Haitian vodou priest/singer Erol Josue – so at best this is merely a starting (disap)point . . .