Graham Reid | | 2 min read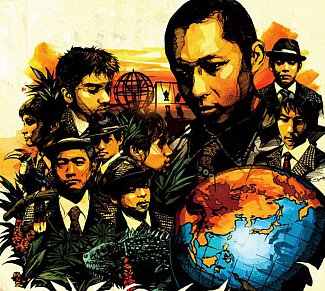 Keyboard player and singer Ryo Nakata lives in the Tokyo suburb of Yokohama but grew up in Osaka. He has visited New Zealand previously when the band played a festival in Queenstown in 2012, but this year will be their first Womad in this country.
At 41 and fluent in Japanese and English, you might find him at Conch record shop on Auckland's Ponsonby Rd where stopped by last time and was very impressed, especially that they knew of Japanese artists. And he has an Osaka Monaurail album out later this year.
Before then however he answers some questions about himself and the band which delivers its own furiously entertaining take on James Brown and funky black soul.
Your first role models in music were . . .
Ryuichi Sakamoto.
If music was denied you, your other career choice would be . . .
Movie distribution. I am still an indie movie distributor. I am presently promoting "Still Bill," a documentary about the life of American soul singer/songwriter Bill Withers.
The three songs (yours, or by others) you would love everyone to hear are . . .
I can't suggest songs for everyone. But, I would bring these songs to a deserted island: Hard Times by David Fathead Newman; Midnight Train to Georgia by Gladys Knight; I Had A Talk With My Man Last Night by Mitty Collier.
Your favourite meal to share with friends would be . . .?
Temaki sushi. I'd always have Temaki Sushi with my family for a special occasion.
What are you looking forward to most about coming to New Zealand?
I want to see how happy people are in New Zealand. It's a wonderful feeling to come to a place where you find many happy people. New Zealand is known as one of the most successful countries. Not how rich the country is; but how happy and satisfied the people are. Seriously, I go to cities to play music, and there are cities where I see many homeless people. Sometimes street children too. That's very discouraging to me especially when I am there to entertain people.
Also, I often discuss moving to somewhere out of Japan mostly because of the Fukushima accident. Plus, Japan is heading a bad direction, especially after the earthquake and the Fukushima situation. The tax is going up. Today many people speak hate against China or South Korea. The Tokyo Olympic is nightmare to me. I think we stop it. How can they do this where we can't be sure of the safety about the running water in Tokyo?
Anyway, I am excited.... I would love to find out about New Zealand.
Is there anything you'd like NZ audiences to know about you/your band before you get here?
Not so much... I just would love to come to the festival and have fun playing the music.
And finally, what is about a Womad festival that most appeals to you?
It's our honor! We are actually performing two Womads on this tour, New Zealand and Adelaide.
Everyone in the world is an inhabitant on the same planet but with different cultural backgrounds, and we all must keep learning the dissimilarities..... Well, we all understand this, but it's never enough. We must keep on learning to live in peace and happiness. Of course we have to pass this on to our children too. I think that's what's all about..... And, again, it's my honor to be a part of this. Thank you!
For more details on Womad 2014 artists with sound samples and Elsewhere's opinion simply go here.