Graham Reid | | <1 min read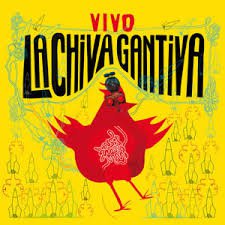 Further proof -- if any more were needed -- that "world music" is a very slippery and loose term. These Womad visitors deliver a heady brew of Afro-Colombian grooves, soul-funk, hip-hop and some nods to roiling Afrobeat.
They, of course, come from Belgium.
Recording in their own studio and getting this mixed in New York just compounds the "world music" issue and in their ranks alongside the three Colombians are two Belgians, a Frenchman and a Vietnamese guy.
That is undeniably "world".
This boiling, relentlessly rhythmic second album conjures up punk and carnival energy with air punching choruses, compulsive dance and hand-clap pop, with a horn section.
La Chiva Gantiva therefore are an ideal Womad band to get a crowd up and dancing. On the evidence here they sound an irresistible live act.
For more details on Womad 2014 artists with sound samples and Elsewhere's opinion simply go here.