Graham Reid | | <1 min read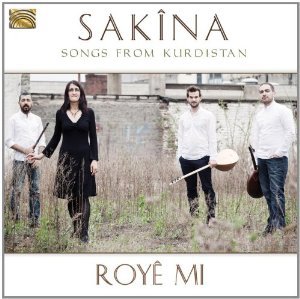 As a people who have suffered appallingly at the hands of despots, repressive regimes and a wider world largely indifferent to their plight, the Kurds have plenty of raw material for songs of hardship and oppression.
Singer-composer and former journalist Sakina – who currently resides between Vienna and Dusseldorf – experienced some of this when she belonged to various groups advancing the cause of Kurdish culture and language in Turkey, and eventually she fled.
This album however is not steeped in inevitable melancholy as she offers love songs and beguiling ballads alongside the more provocative material, and with her folksy but trained voice placed alongside piano, guitars and strings she delivers songs (in Kurdish) which are more world pop than ethnomusicology.
That said, it would be a cold heart that was not moved by Sema, a lament for a colleague who self-immolated in protest at Turkish oppression, or the lachrymose lullaby with zither for a dead child in Lay Lay.
Leavening these sentiments are the ballads, and the unusual closer Narine which is a lively love song with percussion, Oriental woodwind (zurna) and an unexpected LA jazz-lite guitar part.