Graham Reid | | <1 min read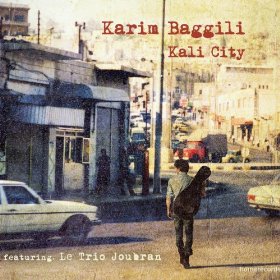 This is very much a game of two halves for the self-taught guitarist Karim Baggili who is Belgian-born and of Jordanian background.
And ironically it is the material with the superb Trio Joubran which comes up short as Baggili explores the oud music which has always been a part of his life.
The five pieces with the oud-playing Trio Joubran are politely impressionistic pieces which are perilously close to non-stick New Age music (perhaps Baggili aimed for a manageable middle ground?) and lightweight romanticism. The Joubran brothers politely dial in their performance and don't sound challenged.
Howeer the following seven tracks have Baggili and his Arabic band (traditional instruments, violin, single reed flute, drums) and on these we are realy taken on a journey into marketplaces and streets (and a rather polite circus).
The lovely ballad Kalimaat featuring singer Karoline de la Serna is among the more moving pieces
So although this isn't the most engaging oud music you'll hear by the end Baggili has delivered frequently enjoyable stepping stone to his betters, among them Le Trio Joubran on their earlier albums..