Graham Reid | | <1 min read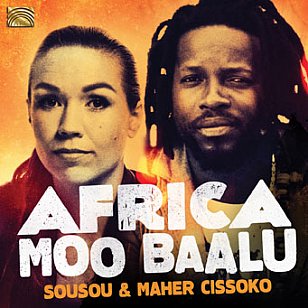 The kora player/singer Maher Cissoko is a Senegalese griot who ended up in The Gambia (after his father "threw him out of the house", according the liner notes), then moved on to Germany and finally went on to Stockholm where he studied music.
His wife, multi-instrumentalist and singer Sousou – who grew up in unbelievable spacious southern Sweden – studied kora in The Gambia.
Given the distances travelled and the coincidences required for them to meet, they did and together they have adopted the role of traditional jalis (Mandinka story-tellers of peace and understanding).
In Western music protest songs frequently resort to headline simplicity and sloganeering but these songs work a very different kind of protest, music coming directly from the artists' souls to the listener's heart. And there it digs in deep as a collective cry from the dispossessed, disenfranchised and oppressed in West Africa.
This understated and utterly convincing album – lyrics in translation – weaves into the subconscious via the mesmerising sounds of kora, guitar and calabash. The pointed liner notes give the background to the songs, but any receptive ear, mind and heart can feel the pain, rage and required reconciliation between past and present.
Truth telling in song.