Graham Reid | | <1 min read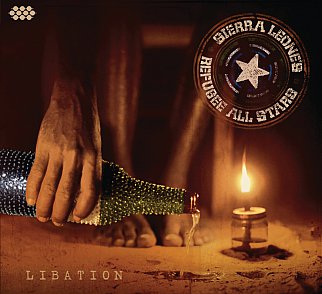 The decade-long civil war in Sierra Leone (which ended in 2002) made many people refugees, among them the musicians who formed the Refugee All Stars in 2004.
They had a wonderful documentary made about them in 2005 (see the clip below) and have recorded occasionally since their debut album Living Like a Refugee in 2006.
This fourth album effortlessly pushes together Afro-shuffle beats with reggae (It's So Sorry, the groove-riding Rich But Poor), some upbeat juju guitar-cum-dance-pop (Chaimra, Ghana Baby), a real folksiness, and throws in a few songs in English (plus the snappy production) by American Chris Velan who also did the knob-twiddle job on their debut.
The SLRAS have been together for more than 10 years and have survived privation and geographical -- as well as emotional -- dislocation. Despite all that there's an overwhelmingly joyous vibe here which is extraordinarily infectious . . . although you also get musical missives about what actually matters in this life.(Money No Do).
Allow yourself to be taken away by this one. It is infectious and life-affirming. And reminds you of the power of music which gives voice to people speak their truths, and to celebrate life against the odds.
.