Graham Reid | | 5 min read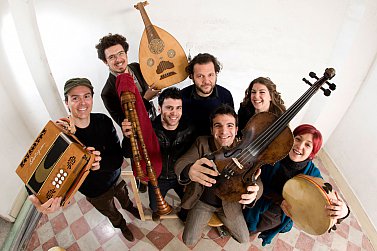 Mauro Durante of the southern Italian band of the Canzoniere Grecanico Salentino laughs about the problem the group has, but also how they rise above it.
"Many of our songs are written in Salentino which is the dialect we speak in this area but some are Grecanico which is an ancient greek dialect related to the byzantine period we had in this area. And there are some songs in Italian.
"So it can be hard to understand our lyrics, but the music has the power to transcend these linguistic borders because you can feel the energy of the music even without the language."
And that is undeniably true because CGS – seven musicians lead by fiddler Durante and a dancer – deliver up an intoxicating blend of flat-tack folk and swirling dance. This is regional music – pizzica – from the very heel of the Italian boot with its roots in a long tradition, but also music which serves a contemporary function, he says.
"Pizzica is a rhythmical style of our traditional music, but now when you say pizzica you don't just mean that style but all the traditional music from Salentino in the south of Puglia.
"This pizzica is very powerful because it was related to a ritual of possession called tarantismo. There was a belief that when you got bitten by a particular spider called taranta then you would go into a state of unconsciousness, so the only way to recover your health was to dance for hours.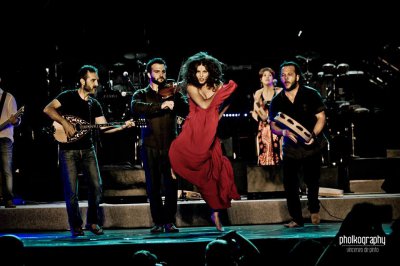 "The music is a complex ritual with colors and water so then you could be good again. It was like a community therapy because the people would gather around the victim .
"It is a physical music because it's sort of underlining the relationship with the ground, the earth, because the economy of this region was field work, people were farmers. So this was a representation of the inner feelings and relations with God and your people and your way of living. "This music is related to the earth."
And although the group celebrate their 40th anniversary next year and play traditional music, Durante says it is important that it be relevant to people today who have a new set of problems.
"I believe that traditional music is senseless if it loses the connection with an immediate need. In the past if you needed to deliver a message of love you used the serenade, if you had a private party you used music for dance like pizzica.
"Today it's important to use what you feel.
"Of course now there is no spider bite that can put you in that state that needs dance to dispel the poison, but you need to do a renewal of the therapy.
"Even if the tarantismo is dead today, we actually still have the taranta spider demon, the evil of today is still alive. Maybe it can change shape. I'm not talking about something religious just that, for example, today it is very hard for people to find a job.
"So you have a full generation which has degrees and specialisations but cannot get work so it's hard to find your place in the world. So there is a wider loneliness and people feel really bad. So there are new demons.
"What we lack is the therapy, that community therapy which meant that people were not left alone with their own problems. So we talk about those demons and a new way of social sharing. Dancing can be the symbol of these things and dance has the power to get over differences.
"If you find yourself on a dancefloor it doesn't matter age, social class, colour, religion, male or female . . . if you dance you are all together and this can be a new form of therapy to deal with society's demons. You can dance your demons out," he laughs.
And CGS have been taking their message of dance out of Puglia into the world from very humble origins in 1975 when the cousin of his father founded the band.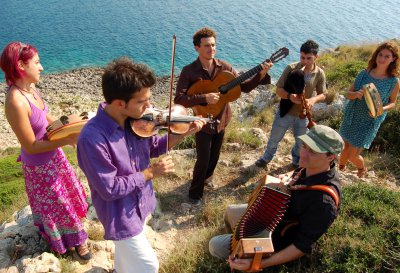 "They were just five young people including my mother and father and some of the current members. The philosophy then was to research ethnographic material, to recover our old traditions, and to represent those materials. Not looking at the past like a postcard or museum material but using the old songs as an answer to the mainstream culture which was dominating all of Italy. Because in Italy after the arrival of television and other urbanisation, people were making fun of the [southern] poverty and rural life.
"So this was a new model of culture.
"After a few years my father took on the leadership and they moved more towards a more musical kind of show.
"After 32 years, in 2007, my father passed on the leadership to me. So again there were a few young artists who were trying to express themselves using the sounds which were centuries old but talking about the present day.
"My philosophy with the band is picking only those traditional songs which have a timeless or universal theme, and we write new lyrics which can be really connected to what we want to express today."
Durante says while the Italian economy is bad, and it is always worse in the south, Puglia has invested in culture and tourism to promote the region. But even in the city of Lecce where he lives, very few people speak English and work is scarce.
"It would be easy to say that culture is a selling point and there is a regional programme which helps music from Puglia to emerge and supports artists to tour abroad and recording.
"There is another programme that deals with films from this region, and another dealing with education with grants for students. These are good inputs but there needs to be more to make Puglia progress. I have to say Puglia has an enclave of good measures but the economy is really bad so it is hard."
And although many northerns still are dismissive or condescending towards the rural south, so many southerners have moved north in search of opportunity that he has noticed an easing of that attitude.
"This kind of dance especially is really getting through the differences, the opposition you can find in some people from the north. Many people who live in the north are starting to discover and enjoy pizzica.
"Besides, in Italy today with globalisation going back to your own traditions and using them as a symbol of your identity can be really important, it means you are rooted and that is what makes you unique an feel safe in this world.
"Even if I use styles and sounds from the past we are living here now, so we talk about about what we are living through today . . just like any new rock band or pop group. The styles are different but we totally feel contemporary.
"But the thing is simple: we should try not to lose ourselves and our cultural traditions. These are what makes us unique in this world."
For information on ticketing and other details about the 2015 Taranaki Womad (March 13 - 15) go here