Graham Reid | | <1 min read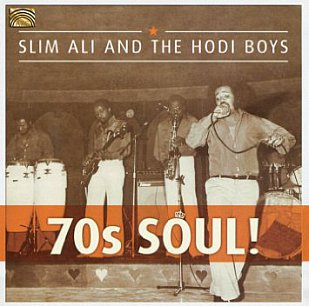 This interesting collection proves that sometimes the frontman is the least of it. Here it is all about the band.
In the late Sixties, Slim Hodi from Mombassa adopted the soulful style Otis Redding, Al Green and Percy Sledge and had a decent career playing in clubs and hotel lounges across the Middle East and North Africa and ended up in Kenya.
There he hooked up again with his first band, the Hodi Boys.
These 14 originals by Ali are drawn from his albums with the Hodi Boys in the mid Seventies and are yearning soul ballads in the mould of the masters.
Ali is good enough (he's a lounge singer in truth), but what is of real interest are the sometimes strange arrangements by the Hodi Boys.
There are psychedelic guitar washes and odd keyboard landscapes in the middle distance which suggest the Hodi Boys could have gone in a very different direction.
But Ali's aching, quavering vocals and passionate delivery pull things together.
There are a few makeweight pieces (Afro Disco Music is underwhelming as both African and disco music) and this is mostly lounge bar soul, with the Hodi Boys twist.
There's a companion album 70s Pop too and – on the evidence of the Hodi Boys here – that could be worth attention.