Graham Reid | | 1 min read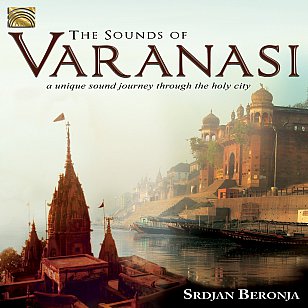 Given the stealthy return of concept albums in rock, we welcome this entry from world music where -- if the title suggests people bellowing in your ear, taxi horns honking incessantly and smiling man asking "Where are you from?" -- the subtitle is more telling: A Unique Sound Journey Through the Holy City.
Serbian percussionist/composer Beronja -- who adopted Varanasi as his home while he learning Indian classical music -- here constructs a dawn-to-dusk exploration courtesy of field recordings of prayers and ceremonies, as well as more formal recitals by sitar and violin player Pt. Dhruv Nath Mishra and others.
It opens with a brief Morning Mantra by some old men (and green parrots) in a field and ends of course with an Evening Mantra by singing holy men and the short evening rage, Raga Bhairavi, by Mishra and tabla player Ravi Tripathi.
Beronja -- or his record label -- is astute enough to rein in the atmospheric pieces to just snippets (none more than two minutes, and don't really need more than the 44 seconds of monkeys scrapping over a piece of roti bread).
But the music is often beguiling (Pahari Dhun with bansuri flute player Hari Poundwal) and the field recordings throughout collection bring an atmospheric authenticity to the hour-long journey towards nightfall.
So this isn't the high end of raga but rather postcards or missives from a day in the holy city where you get to hear chants recorded in alleyways or on ghats, and the happy noise of drums at a wedding.
Real life, in other words.
A worthy, if marginal project, where Arc's liner notes fill in details of the locations, styles and instruments.