Graham Reid | | 1 min read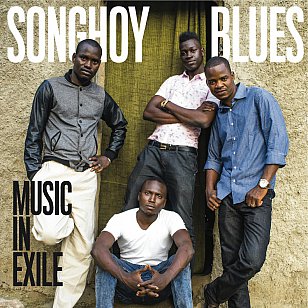 With the sounds of Womad still ringing in our ears, this remarkable album might get more traction that it might otherwise have found.
That said however, this one also walks towards a mainstream audience more than most of what comes at us as world music.
It is focused, thrilling and very significant blues-rock from West Africa, although the yearning of the final two songs – Desert Melodie and Mali – are imbued with sadness that is palpable.
The educated men in this four-piece have been battered by displacement and violence of the Tuareg rebellion and the Islamic militants of al Qaida which have torn their country apart.
But -- as we find so often with world music -- when the musicians write and play they create something which educates and channels their energy and messages into taut and exciting music. It sometimes seems a world away from the more common hypnotic trance music of much desert/Sahara blues.
It's easy to like world music when it sounds vaguely familiar from your own music history. But the world musicians have often come to that sound independent of the Western styles out of London, New York or Los Angeles.
Etran Finatawa, Tinariwen and others may have sounded like Delta bluesmen, but what drove it were very different circumstances.
A new generation of desert/Sahara blues artists however have grown up familiar with Hendrix and American blues. This band from the area between Timbuktu and Gao grew up with the Beatles, Hendrix, American r'n'b and hip-hop.
So if you hear elements of John Lee Hooker (Sekou Oumarou) or rock-blues in the exciting opener Soubour, you are probably right.
These guys are no primitives but sophisticated African blues-rock players.
But the title tells you much more is going on here, there's a political dimension here which is also commanding and unique.
Whether you follow world music or not, this is just a damn fine and important album.
Incidentally, on the covermount CD with the latest Mojo magazine -- a tribute to Led Zeppelin -- Songhoy Blues offer their interpretaion of Kashmir. This is it.
Songhoy Blues: Kashmir
.