Graham Reid | | <1 min read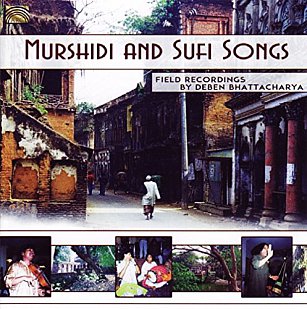 Although we might describe these field recordings as more worthy and important than they are repeat-play items and essential on the shelf, they are deserving of our attention.
Deben Bhattacharya -- who died in 2001 -- captures the musical tradition of the Sufi so ancient as to be unfathomable, and so profoundly moving it is timeless.
Bhattacharya was a pioneering world music documentarian, and an assiduous researcher, photographer and performer. His recorded and filmed music, poetry and dance – historic, religious and contemporary – of numerous minority communities in Europe and across the Indian subcontinent.
In the year of his death in Paris, director Stephane Jourdain filmed Music According to Deben Bhattacharya about the old man's return to Bangladesh where he was recording the spiritual and instructive music of the Murshidis whose history emerged centuries ago out of Sufism.
This album collects all of those field recordings of the poetic, inspirational songs of devotion which Bhattacharya got on tape in various locations. The sound quality is, surprisingly, very good indeed and the excellent -- as always with ARC Music -- liner notes, lyric translations and footnotes confirm this as an important document for subsequent researchers. Or even those just curious enough to immerse themselves in it.
And it is enjoyable and instructive as the singers reach for the divine, that place perhaps almost always beyond the reach of mortal man.
So a worthy album more than a recommended one, but highly worthy indeed.