Graham Reid | | 1 min read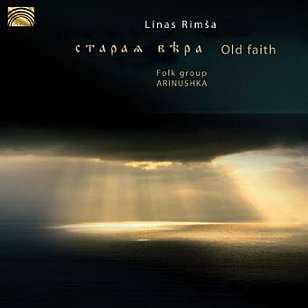 Years ago I was given a birthday card which read, "If you didn't know your age, how old would you be?"
Let's flip that a little and ask about this fascinating album, "If you didn't know where this music came from, where might you guess?"
I didn't know. I just put it in the player with barely a glance at the cover and pottered about as it started to play.
The opener was mysteriously North African/Middle Eastern of some kind (yet not, because the vocals didn't sound quite right), the second piece was definitely/maybe and just possibly Native American, later I was in Okinawa for sure. . .
It was ancient sounding but obviously modern because there were prograrmmed keyboards.
As the music played out I became convinced at one point this was some contemporary Irish group, but then within minutes there were vocal sounds like the trickle-down of Philip Glass minimalism.
So if you didn't know this was music by a Russian folk ensemble from Lithuania, where do you think it might have come from?
Here Arinushka -- which apparently formed in '88 with the purpose of drawing attention to the music of ethnic minorities in the region -- perform the music of contemporary composer/video artist and much acclaimed everyman Linas Rimsa who has written these 14 songs around ideas of traditional religious and faith beliefs in Lithuania and southern Russia.
However this is not just reverential holy music but rather lively vocal ensemble pieces underpinned by Rimsa on keybaords and programmes, with sometimes additional help from guitar, Irish whistle, flute and so on.
Kind of pan-latitudinal music in that all those global references I heard and mistook seem to be around the same geographical parallel, albeit separated by continents.
The pieces are entitled About Sanctity, About Nature, About Love, About Fate etc.
About Stupidity is a dance song about a new wife who doesn't know how to keep her home in order, and About Death is a dramatic piece about life after death (which sounds like it mightn't be too bad, lots of dancing).
So, a very different album of vocal music which -- ironically, given it is so localised -- reaches across cultural and national boundaries in its sound.
Listen without prejudice, as the man said.