Graham Reid | | <1 min read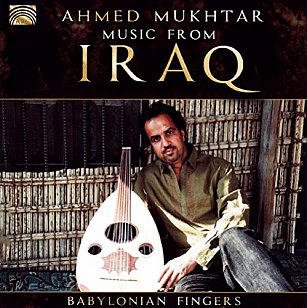 Interesting that the actual album title Babylonian Fingers takes considerable second place to the banner "Music from Iraq".
In truth though, that geographical specificity might actually work better as hook, given how little most people know about the sounds from that region . . . other than maybe what they've heard in movies while the bombs go off and another group of American grunts from Hollywood get anxious, self-doubting and angry in the multiplex.
Baghdad-born, London-based oud master, teacher and composer Mukhtar has done much to keep the music of Iraq in the public consciousness.
However if the album title might suggest traditional, if not ancient Babylonian, music this opens with the swinging Iraqi Jazz with sax and acoustic bass, includes the fingers-poppin' Blues of the Oud and an interpretation of a love song from the Forties.
So Mukhtar is connecting the dots between past and present, home and abroad.
Of course this is still music grounded in a long tradition. The hypnotic Sama'ai Hijaz and the title track – where the finger-plucked oud sometimes sounds more like an Elizabethan lute -- evoke images from a more refined world.
Mukhtar also takes listeners into Alleys of the Old City . . . and on Nowroz explores a rhythmic connection with music from Central Asia.
All in all, this is a fascinating journey through landscapes more scenic than you might have seen on the movie screen lately, and into narrow byways where there are real people not men with murder on their minds.