Graham Reid | | <1 min read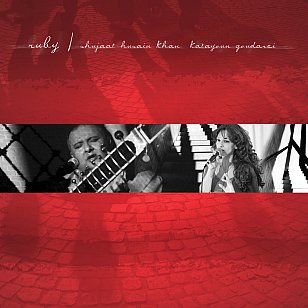 Just as Shakespeare will always be a bottomless well for interpretation, so too the hundreds of works by the 13th century Persian poet Rumi are constantly being explored by musicians and singers.
Iran-born and New Jersey-based singer Goudarzi here, for the fifth time, teams up with sitar maestro Husain Khan (of the Northern Indian tradition, a son of Ustad Vilayat Khan) for this delicate yet rigorously considered exploration of some of Rumi's ghazals.
Despite being separated by cultures, musical traditions and the generations, the duo – this time with sarangi, santoor, and flute embellishing the sound – find common ground in the deliberately pared-back melodies which soar on the back of Goudarzi's unmistakeable voice and the emotional depth of the mystical lyrics of spiritual love and devotion.
Such is the deft balance here that sometimes you can be transported by the music of Husain Kahn (the delightful Clouded and pastoral Whirling Tree elevated by bansuri flute) and at others by the beguiling Goudarzi (who, despite her late entry, commands the evocative Adrift).
Music and emotion which becomes considerably more than the sum of its seemingly separate parts.
Unfortunately the tracks on this album are too long/large for Elsewhere to post but they are on Spotify, along with numerous other albums by Shujaat Husain Khan