Graham Reid | | 4 min read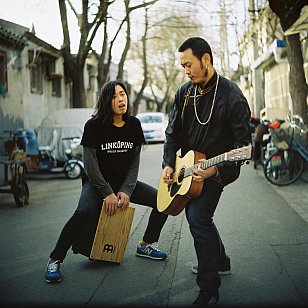 They call their music "mongolian grunge" or "nomad rock", and they seem fair description for a duo which brings together traditional Mongolian throat-singing (called khoomei) with elelctric guitar and thumping percussion.
Tulegur are guitarist/singer Gangzi (who moved from Mongolia to Beijing then back) and percussionist/guitarist Zongcan.
They have toured internationally, released their debut EP I Am A Mongolian in 2012 and next year appear at the Taranaki Womad 2016 (see dates below).
Time for them to answer the Famous Elsewhere World Music Questionnaire . . .
The first musician whose music really affected you was . . .
Gangzi: Zhao Chuan (A famous Chinese Pop Rock Singer)
Zongcan: To me it must be Dou Wei, the former lead singer of Hei Bao (also known as: Black Panther, a legendary Chinese rock band). I think he is the most diligent and creativity musician in China, and he is full of avant-garde ideas.
Your first appearance on stage before an audience was . . . (And you were how old?)
Gangzi: 13
Zongcan: 18 at school
If music was denied you, your other career choice would be . . .
Gangzi: I think I can be a good athlete or cook
Zongcan: Actually I never thought about that, but if I have to quit music, I probably would learn how to make Tofu with my father and to inherit the family skills of making Tofu.
The three songs (yours, or by others) you would love everyone to hear because they are so emotionally moving are . . .
Gangzi: I'm listening to the following three songs a lot recently: "Samsara" by Haya Band, "Always in my Heart" by Coldplay and "Whip it!" by Love and Death. And if you allow me to name one more song, I'd like to recommend our new piece called "Opening"! Haha.
Zongcan: "Guangling San" (music from the ancient place Guangling) by Guan Pinghu, a famous Chinese Guqin artist, and "Wilhelms Scream" by James Blake, also "Horse Riding" by Tulegur.
The most unusual place you have performed would be . . .?
Tulegur: Festival Reperages at Bibracte Museum in France. The stage has been set up on an open terrace at the hill side, the mountain at your back and a green valley ahead as far as eye sight can reach. It's more than special!
The most important book you have read is . . .? And why?
Gangzi: A book of basic music theory which I bought myself at high school time. I learnt music theory by myself and that book taught me all the basic things about making music. I wouldn't be me today without that book.
Zongcan: "I Ching" (also known as "Classic of Changes"). I find it interesting because the more you read, the harder you can understand. I think this book contains all Chinese wisdom and it's enough for me to read in a life time.
If you could get on stage with anyone it would be . . . (And you would play?)
Gangzi: I want to play with all different kinds of musicians on stage, that's the essence of making music. Given any of such a chance, I will be there with my acoustic guitar and microphone no matter with whom.
Zongcan: The first name that bumps up is Dou Wei (a rock legend in China). I don't ask to play with him, I'd if I could work as his assistant and watch him play closely.
The three films you'd like anybody watch because they might understand you better are . . .
Gangzi: I don't watch movies a lot, so I can't recommend that many. But recently one film left deep impression on me and that Is "Inside Out", a very well done cartoon, not as something that'd influence my life but it sure cheers me up and gives me joy!
Zongcan: Two documentaries by Ron Fricke: "Baraka" and "Samsara", and "Quitting" by a Chinese director Jia Hongsheng.
When you travel, what is it you most miss about your home country?
Gangzi: Parents at home
Zongcan: Home-made noodles!
The artist you most admire would be . . .
Gangzi: There are so many artists who I love but most of all, I admire myself! No, I'm joking. I really don't know which are the artists I admire the most. I think any artist who can move me is just as good! Like Johnny Cash, Slash, AC/DC, Metallica, KoЯn, Blue Stahli, GRiZ, etc., it's impossible to make a choice!
Zongcan: James Blake, haha!
Your favourite meal to share with friends would be . . .? (Care to share a simple recipe?)
Gangzi: Roast lamb leg, but I only know how to eat it …
Zongcan: China's national favorite: fried tomato and eggs. :) Three tomatoes, three eggs, some bruised ginger, chopped green leek and garlic slices, and then, magic!
Do you practice every day, and if so for how long?
Tulegur: 4 to 6 days a week, and 3 to 5 hours each time.
David Bowie sang, "Five years, that's all we've got . . ." If that were true, you would spend them where, doing . . .?
Gangzi: If it means we only have 5 years left in life, I think there are a plenty of things that can be done, like we can release 5 more albums, maybe 10 world tours, haha! I would spend 4 years to travel around to learn more about music, and then save one year to stay with my beloved peoples in my hometown, ride horses, graze and sing together.
Zongcan: Yes, stay with family. I will go back to my parents because I haven't being there with them a lot these years.
And finally, do you have any unrealised goals in music?
Gangzi: Our final aim is to create music for the universe and play on other planets! Do you believe it?
Zongcan: Back to Earth, we are working on a new album which hopefully can be released in 2016.
For more on other artists coming to the New Zealand Womad in Taranaki in 2016 go here.