Graham Reid | | 2 min read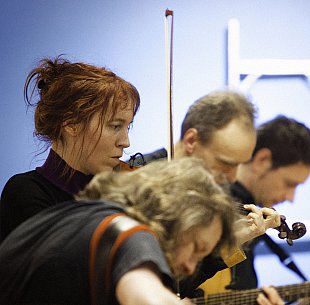 The English folk group Spiro have been credited with redefining the genre by deftly incorporating contemporary elements from Steve Reich and Philip Glass, according to Peter Gabriel who has signed them to his Real World label.
Guitarist in the band Jon Hunt agrees: "We've got more to do minimalist classical and dance music than we have with folk. Even though we use folk tunes they're the raw materials that the rest of the sound is built around."
Their debut album Lightbox won rave reviews ("Like Detroit techno played by a traveling band out of a Hardy novel," said The Word) and their second Kaleidophonica lived up to its title, a kaleidoscope of sound.
Their thrd album Welcome Joy and Welcome Sorrow was released in April 2015 and they have been on the festival circuit now for many years winning praise everywhere.
They come to the Taranaki Womad so we flicked our world music questionnaire to the band's violinist Jane Harbour . . .
The first musician whose music really affected you was . . .
The Beatles, I raided my mum's record collection when I was a kid and really got into them, so much so I had to stand on my head while listening - weird kid.
Your first appearance on stage before an audience was . . . (And you were how old?)
It would've been a local Suzuki concert of some sort, age 4. If you study the Suzuki method you start young and get shoved onstage with everyone else whatever you sound like!
If music was denied you, your other career choice would be . . .
I'd love to get a chance to paint, design, or write.
The three songs (yours, or by others) you would love everyone to hear because they are so emotionally moving are . . .
The Symphony of Sorrowful Songs, Gorecki. Tri byulbyula peyote (Three nightingales are singing), Trio Bulgarka. Cantus in Memoriam Benjamin Britten, Arvo Part (not a song, but very moving).
The most unusual place you have performed would be . . .?
Bristol Zoo was pretty unique - the animals went totally mad!
The most important book you have read is . . .? And why?
I'm a big Iris Murdoch fan, but couldn't pick out one book, so I'd have to say her writing in general. Because she writes so honestly and perceptively about life, about what's going on in everyone's heads, and how we all relate, while making you see how complex, interesting and strange reality is.
If you could get on stage with anyone it would be . . . (And you would play?)
If we're talking dead or alive then Moondog. I particularly love his track 'With my Wealth'. No violins involved, but if he gave me some tuition on the Trimba (a percussion instrument he invented) I'd love to play that, and be part of the counterpoint vocals.
The three films you'd like anybody watch because they might understand you better are . . .
I honestly don't know what they say about me but some of my favourite films are: Withnail & I, The Wicker Man and Inception.
The last CD, vinyl album or download you bought was . . .
Damon Albarn's Dr. Dee.
When you travel, what is it you most miss about your home country?
The English countryside, Bristol, being at home writing music.
The artist you most admire would be . . .
Bach, for his moving mathematical beauty.
Your favourite meal to share with friends would be . . .? (Care to share a simple recipe?)
Curry, but not cooked by me! (I'm a terrible cook).
Do you practice every day, and if so for how long?
I play a lot, rather than practice as such. But music's in my head 24/7, which is kind of practicing for the brain I guess.
David Bowie sang, "Five years, that's all we've got . . ." If that were true, you would spend them where, doing . . .?
Realising musical goals and indulging a lot of vices.
And finally, do you have any unrealised goals in music?
Yes, I love composing for vocals and will hopefully get to record some of this stuff at some point.
For more on other artists coming to the New Zealand Womad in Taranaki in 2016 go here.