Graham Reid | | <1 min read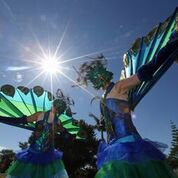 The annual Womad festival in New Plymouth is one of the high points in New Zealand's musical calendar because, if for no other reason, it brings musicians from all over the world into our sight lines and ears, most of them artists who couldn't support a show here under their own name.
But add them all together, factor in a great site, good food, a friendly vibe and a bunch of local artists . . . and it's a pretty compelling reason to head to Taranaki in March.
Elsewhere has written a lot about world music artists over the years (we still say we are the only place in New Zealand which does this with any frequency, outside of those who come on board for Womad-time) and have posted a number of world music questionnaires with Womad 2016 artists.
Here then is the running order for the festival which starts early evening on Friday, March 18.
See you there.