Graham Reid | | 1 min read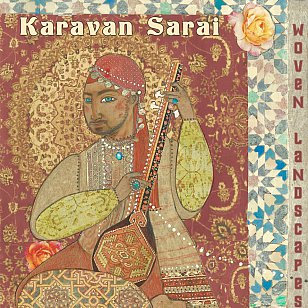 Multi-instrumentalist Narayan Sijan grew up in the American Midwest but since the early Nineties has traveled constantly through India and Central Asia and to East Asia.
Even very recently he was still moving through the Middle East and his recent Facebook postings came from Egypt where he was playing with gypsy musicians.
He's a global citizen who lives on the road and picks up instruments, melodies and ideas.
On this disc however he is joined by double Grammy nominee, performer/producer Carmen Rizzo (they perform as Karavan Sarai) whose background as a producer or player includes work with Seal, Coldplay and Dido. Rizzo also co-founded the world music act Niyaz (fronted by the excellent Iranian-born, Canadian domiciled singer Azam Ali) and has recorded Huun Huur Tur.
So the credibility brought to this this enjoyable, electroacoustic, eight-piece collection is to be reckoned with seriously.
But delightful though much of this is – and it's hard not to be taken in the melodic and rhythmic undulations of River Bend, the hypnotic Indo-Arabic sound of Desert Water and their extrapolations from the Sufi song Upon My Own Hand – this also sometimes veers very close to New Age music.
So over the 50 minute duration you might reasonably conclude there's little here which hasn't been explored previously by other musical explorers down these pan-cultural highways of these culturally rich regions.
It is sometimes entrancing, undeniably intelligent, occasionally insightful and quite often seductive, but it doesn't bring much which is truly innovative or exciting to the table.
You can find out more about Karavan Sarai at their website here (and may purcahse the album there).