Graham Reid | | 1 min read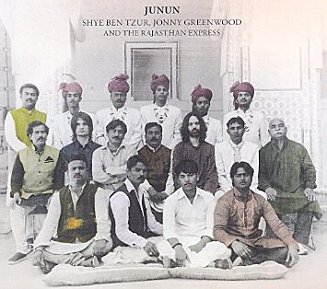 In a cover which recalls the Seventies albums Shankar, Family and Friends and Music Festival From India (see below, both produced by George Harrison for his Dark Horse label) comes this exciting double disc which brings together the Israeli-American composer/singer Ben Tzur, Britain's multi-instrumentalist Greenwood from Radiohead and a large ensemble of horns and Sufi qawwali singers.
With Greenwood discreetly adding in thumping drum machines and sweeps of synth-drone in a few places alongside the rhythm-driven Indian sounds – coupled with soaring vocals and jazzy trumpet (from Aamir Bhiyani) – some of this album would be as at home at a Splore Festival or in a pumping dance club (the thrilling three minutes of Roked) as it would be at a Womad (the uplifting title track, the big horn drive of Julus among others, the slow burn of the seven minute-plus Hu).
This is sometimes very worldly-sounding world music, and was recorded in a 15th century fort in Jodhpur by producer Nigel Godrich who keeps things very live and direct.
The original songs by Ben Tzur were inspired by the qawwali tradition and he apparently discovered Indian music at 19 in Jerusalem at a concert by the masters Hariprasad Chaurasia and Zakir Hussain.
He subsequently went to live with musicians in Northern India.
Greenwood heard some music by Ben Tzur and they first played together at London's Southbank Alchemy Festival in 2014, then again was a guest at Ben Tzur's concert at the Queen Elizabeth Hall in London.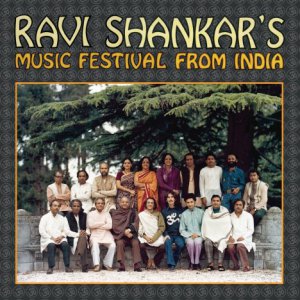 The album's title Junun roughly translates to "passion", and that is the very clear sense you get here where people of very different cultural backgrounds find common emotional and spiritual territory, then bring into play 21st century technology and sensibilities.
Greenwood has spoken about how overly-reverential some Western musicians are towards recording in India but that he thought – because of the rhythms and horns – more about making something closer to a James Brown album.
Well, this isn't that . . . but you take his point, especially on the thrilling Roked.
The somewhat lesser 27-minute second disc errs more towards shorter songs by Ben Tzur – some bringing in women singers – and while the devotional elements are there, this album also includes songs in Hebrew and well as Urdu.
Given the musical and emotional breadth here – from elevating Sufi spiritual singing to trance-dance and Womad-meets-hands in the air like you just don't care – this really is something which touches different places.
But for audiences comfortable with rollicking jazz horns, Sufi soul and DJ culture, this should sound utterly familiar.
It's addictively danceable . . . and very, very hard to walk away from the increasingly urgent, repititious male vocal chant on Eloah. I dare ya'.
Highly recommended.