Graham Reid | | 1 min read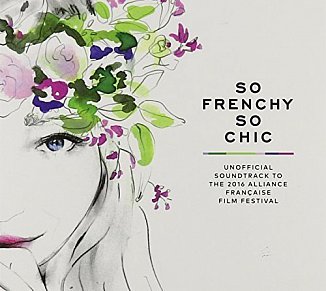 For many decades the punchline was,"French pop" . . . because when it came to pop music it seemed the French -- stuck somewhere between cool chanson and fashion chic -- didn't quite "get" it.
That changed some time back (the European Union perhaps?) and these days the polyglot of cultures in France has produced sterling and distinctive hip-hop, their own brand of chanson-folk, music influenced by the former colonies, excellent dance and electronica and, yes, good pop and rock.
Elsewhere has always had a soft spot for the annual double-CD So Frenchy So Chic collections (billed as the unofficial soundtrack to the annual Alliance Francaise Film Festivals) because they allow a one-stop catch up.
They are, by their very nature, uneven. But you can always turn up some very cool individual songs (and these days with streaming services can track the artists' albums).
Here things get sensually slinky with Lou Doillon's English-language, groove-riding Lay Low, the oddly-named Bumcello's quirky funk on Je ne sais quality (with some lyrics in English also) and Isaac Delusion's gorgeously detached Midnight Sun which exists somewhere between ambience, a chill-out room and a cheek-to-cheek dancefloor.
The spirit of chanson (albeit mixed with trip-hop and Franco-folk) appears courtesy of Bertrand Belin and Baptiste W Hamon (with Alma Forrer), and there's a chic Latin feel to Sages Comme Des Sauvages' Paris Defend (they are from Reunion I believe).
Flavien Berger does a neat line on Gravite which sounds like a melodic amalgam of Waiting for the Man at the bottom beneath weird electronica and his 2am winelight seduction, and Aaron kisses the hem of Sparks on Blouson noir made for midnight driving through recently rain-swept streets.
You can hear hits here too: the acoustic-driven dance-pop of Jain with Come, HIndi Zahra's North African/desert blues-influenced slightlydelic To the Force (in Engish) and HollySiz on Better Than Yesterday has to be an American on her exchange year and knocking of teen-pop to pay her way through l'ecole.
This is French pop not rock. That is, there are more keyboards and synths than electric guitars which are barely evident (there's a short and strange solo on Luce's Polka). And sometimes you feel there is, deliberately, not an extra ounce of energy being expended . . . because that would most defintely not be chic.
Oh, and New Zealand's Minuit should not be surprised they share a name with a French outfit (who here parlay early Eighties electro-pop).
And why did no one else think of Radio Elvis as band name? (Their six-minute Cowboy Junkies-cum-street drama on Goliath is a damn fine and slightly battered rock'n'roll way of closing this 30-song collection. More like it would have been welcome.)
This annual catch-up is always worth exploring and its very unfamiliarity, smart production values and slightly exotic/romantic quality once again recommends this series.
The paucity of mainstream hip-hop and artists from the former colonies, as have been evident on previous Frenchy/Chic comps, is a pity however.