Graham Reid | | <1 min read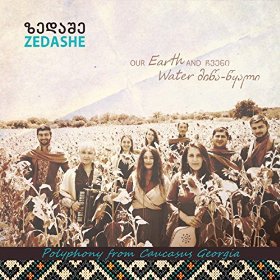 Okay, we're not gonna lie to you . . . this is highly demanding if authentic folk from this vocal ensemble out of the Georgian Caucasus.
These 26 polyphonic secular and sacred songs -- which date back centuries and are here rendered as authentically as possible -- only come with minimal instrumental support (drums, lutes and the local bagpipes).
So your enjoyment, not to mention tolerance, will depend on how high -- or low -- your threshold is for these male and female voices which move from stately chants to joyous love songs.
Some of these economic songs might have originally been sung in a church, others at a festival in a field.
Pointedly, they were recorded at a local vineyard and the group's name refers to wine buried in earthenware jars and brought out for ceremonial purposes.
Unfortunately the gatefold CD sleeve misses the opportunity to provide some background and context so . . . a highly worthwhile project by younger people wishing to keep the traditional alive.
But you might conclude you're glad you didn't live back then and have them rehearsing in the barn next door.
And if they were performing at a Womad I would happily be elsewhere on the site. The bar probably.
We bring it to your attention simply as a pubic service.