Graham Reid | | <1 min read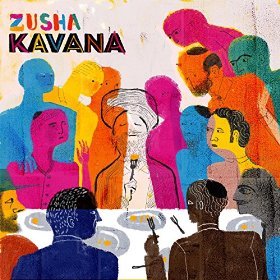 This Jewish trio from New York (and a number of guests) explore and interesting, if sometimes familiar, thread within Jewish music. But in their hands this is where tradition meets Downtown.
Think the Violent Femmes rockin' the kibbutz.
Their twist is that deeply soulful singer Shlomo Gaisin explores a tradition of wordless vocals which suggests language, so this invokes and evokes emotion — and sometimes just sentimentality.
There is also minor chord melancholy.
Regrettably, as is so common these days, their default position is reggae, which has rapidly become the first resort when you want to please a crowd. Here their insipid Mashiash is replete with dub-influences and jazzy funk, but they can't disguise its weaknesses.
And Binyan Ariel is similarly transparent.
At just 32 minutes this brief introduction to Zusha – following their EP of 2014 – only makes you think you need to see them live. Because Kavana does little more than offer crowd-pleasing and obvious familiarity.
Their point-of-differnce isn't enough.