Graham Reid | | <1 min read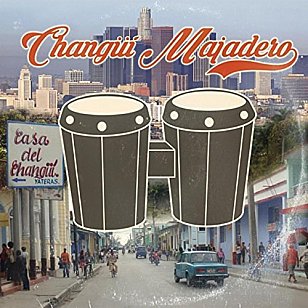 As we've previously observed at Elsewhere, Cuban music has, since the Buena Vista Social Club more than two decades ago, been often reduced to the cliches of romantic old folk and supple rhythms with a horn section.
It must come as a surprise to many to learn that there is hip-hop ansd rock on that island.
And this hugely appealing debut -- scuffed and perhaps sounding unrefined -- by a five-piece from Los Angeles puls together different but related Hispanic traditions: the music and experiences of Mexican migrants to the US and the sound of traditional Cuban changui from the Guantanamo area where elements of African percussion are still evident.
The group's founder Gabriel Garcia came to the old school Cuban style through academia but his empathy and enjoyment of the music – refined by visits to Guantanamo where learned from local players – is evident across these (mostly) 10 traditional tunes.
Traditional instruments are used (the three-string tres) but this isn't entirely some exercise in retro exploration. Changui Pa Ayotzinapa is an emotionally charged plea for justice in the case of the 43 Mexican students kidnapped and killed in 2014 while going to a demonstration in Mexico City.
At the other end of the spectrum is the lovely La Rumba Esta Buena which appears in two versions, one intimate and lean, the other punched up by horns to create a party atmosphere.
Music as at home in Cuba as it in a backyard barbecue of East LA.
Recommended.