Graham Reid | | 2 min read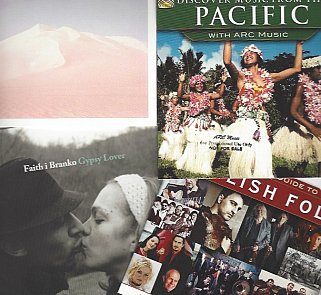 Here's a frequent flyer/transit lounge column for those at home who want to get their musical passport stamped. Elsewhere has so many CDs and downloads commanding and demanding attention that we run an occasional column which scoops up releases by international artists (IN BRIEF), in much the same way as our SHORT CUTS column picks out New Zealand artists.
And of course Shani.O picks up EPs in her column.
Various Artists: The Ultimate Guide to English Folk (Arc Music): For anyone with an interest in British folk music, Elsewhere can highly recommend Electric Britain: Unearthing Britain's Visionary Music by Rob Young which appeared in 201`0. But be warned, Young is such a persuasive writer he'll have you scouring the internet or record stores for dozens of albums. He set Elsewhere back a pretty penny.
This double disc collection of 35 songs with useful biographical notes refines to focus down to English artists but its reach is wide, from archival material by the traditional unaccompanied voices of the Copper Family and the Watersons through many familiar names (Steeleye Span, the Unthanks, Martyn Carthy, Oysterband, Maddy Prior with June Tabor, Nic Jones, Bellowhead,) and a number of more recent artists who explore the traditions.
Even if this kind of folk is a hard haul for some you have to admire the inclusiveness of this, and like Young's book, it will have you in search of more by certain artists.
A job well done.
Ramble Away, by Roger Wilson
Mala: Mirrors (Brownswood/Southbound): Mala is South London producer Mark Lawrence who is a pal of Gilles Peterson, so we've encountered him before with the pretty terrific Mala in Cuba album which Mala recorded during one of Peterson's tours of duty down that way.
Here however his attention is on the music of Peru . . . but again there is a major but fascinating disconnect between the source material (which errs towards field recordings and more primal elements from the Andes of Afro-Peruvian sounds) and what he does with it back in the studio. The result is something which mostly sounds quite some distance from Peruvian music and frequently closer to chill-out home listening a hip Brixton flat. It is laptop meets boxtop drums, synth washes and Pan pipes.
It's an interesting digression and diversion but not the winner that the Cuban connection was.
Shadows, by Mala
Faith I Branko: Gypsy Lover (Riverboat/Southbound): The cover photo and liner notes tell the story. Singer, pianist and accordionist Faith was a British circus performer who traveled to the Balkans where she met violinist Branko but love didn't blossom until she returned home and they yearned for each other. He was a dark place and unwell but love healed him and they married, and this album – mostly instrumental – documents much of this, mostly the joyous aspects of their lives.
With a small ensemble they deliver uplifting Balkan swing (with digressions into inevitable melancholy) and Branko can be a breathtakingly vigorous or expressive player.
Sister, by Faith i Branko
Various Artists: Discover Music from the Pacific (Arc Music): While those outside the region may well find this 22-track compilation of interest and perhaps a landline to the music of the broader Pacific, those closer to it will know of better collections.
The problem is that this largely draws on field recordings by the late David Fanshawe which, while authentic, properly need to be heard in their specific context rather than as the soundbites they appear as here.
So a fiafia at Aggie Grey's hotel in Western Samoa appears alongside two snippets of traditional waiata from Aotearoa New Zealand by Kahurangi Maori, two more recent and slickly recorded studio songs by Te Vaka, material recorded at a cultural festival in Quebec, a delightful if archetypal Hawaiian lullaby from the steel guitar player Harry Kalapana from the Balkans (true!) and . . .
Although not without interest, it comes like a series of postcards from around the region and the tourist's message reads, "Lovely here, am leaving tomorrow".
Field recording, Orchid Island Group from Fiji